Pumpkin Streusel Muffins (Paleo, Gluten-Free, Grain-Free)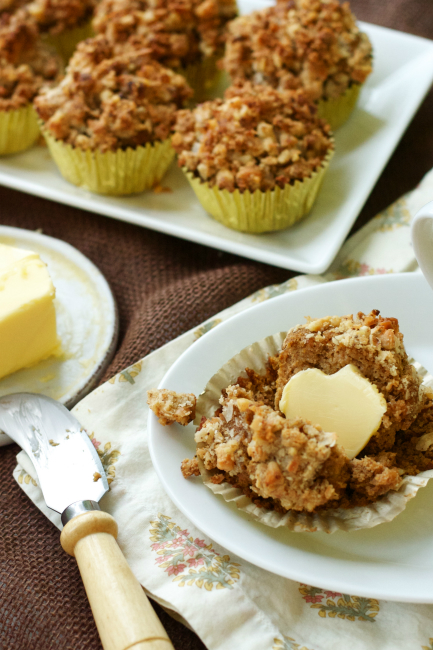 It's been a rainy morning here in GA today. Even the clouds know it's a Monday.
Though it's pretty sad-looking outside, the rain has not deterred us from having a lovely morning so far. I am still on my happy-husband-high from a weekend away (at Chateau Elan, ooh la la!) and I will ride it as long as it lasts!
Our answer to this dreary weather is muffins. Pumpkin streusel muffins.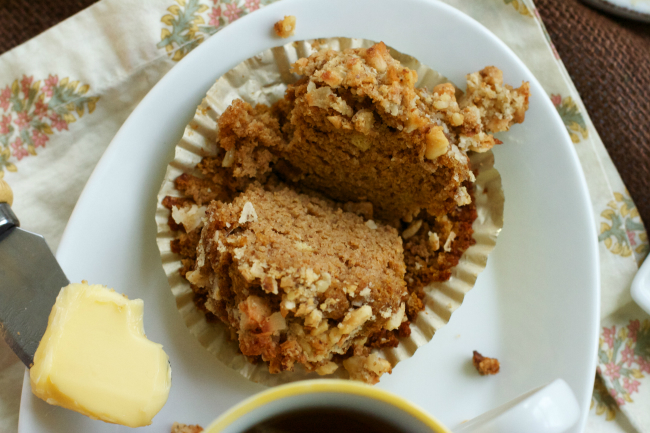 I do my fair share of baking, but I am not the main muffin baker of my family- that title goes to my mom. Nana loves a good muffin, particularly if it's stuffed with nuts/fruit until it's bursting out of the wrapper. She loves to make a giant batch of her Morning Muffins when we come home to visit and she has a stainless steel bowl for mixing her batters that is bigger than.. well, it's just huge.
She is probably going to text me as soon as she sees this and ask me to freeze a few for her next visit.
(Hi, Mom! We can make some more while you're here.)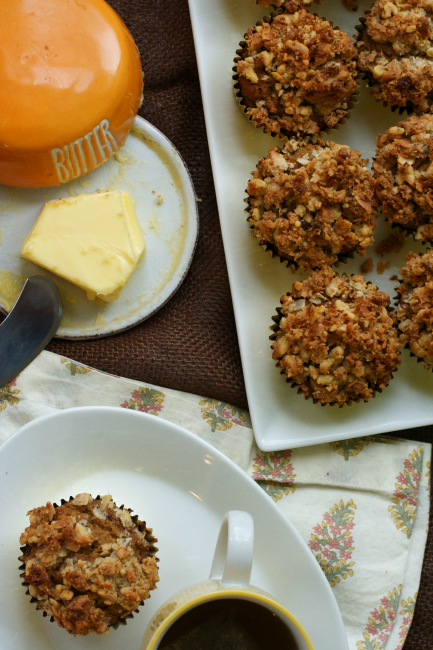 I went with pumpkin simply because we had some pumpkin puree leftover from pumpkin pancakes a few days ago. I added the streusel because I (have no self-control and) cannot resist that sweet crunch. If I'm going to make muffins, I'm gonna do it up.
The muffins are grain-free, gluten-free, refined-sugar free and paleo. The main ingredients are pumpkin, eggs, coconut flour, and butter/coconut oil. The recipe is pretty easy to pull together and they'd still be yummy without the streusel if you want to save some time.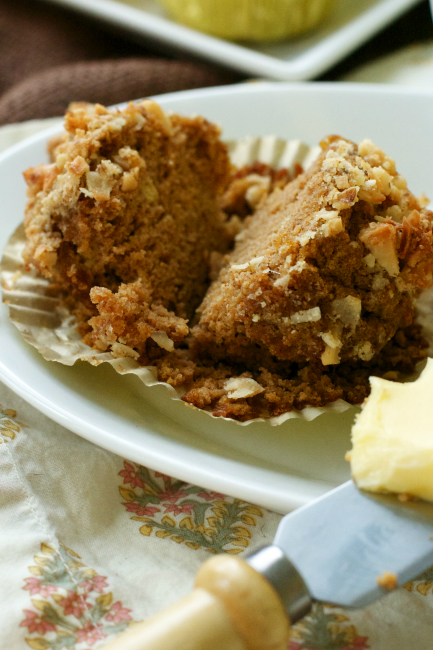 I had a question on Facebook about alternative flours and I'd like to say a little bit about them in case these new ingredients are freaking you out. I debated for a long time about investing in these new ingredients because 1) they're expensive in small quantities and 2) I was so used to wheat flour and didn't want to adapt. I started by transitioning to a gluten-free flour mix first (King Arthur has one you can find easily) and then started experimenting with grain-free flours.
Coconut flour, almond flour and other grain-free/nut flours do not act the same as traditional wheat flour- they do not contain gluten, so they need binders like eggs or flax seed to make successful batters. Recipes using these flours are dense- they don't rise up the way that wheat flour does, but that doesn't mean they aren't tasty. They also have the added benefit of fiber and other nutrients that wheat flour does not. If you are new to baking with these flours, I suggest following your first few recipes closely before you start experimenting with substitutions.
I buy my almond flour from Honeyville and my coconut flour from Tropical Traditions. Both companies have sales and bulk purchasing that you can take advantage of to save some money.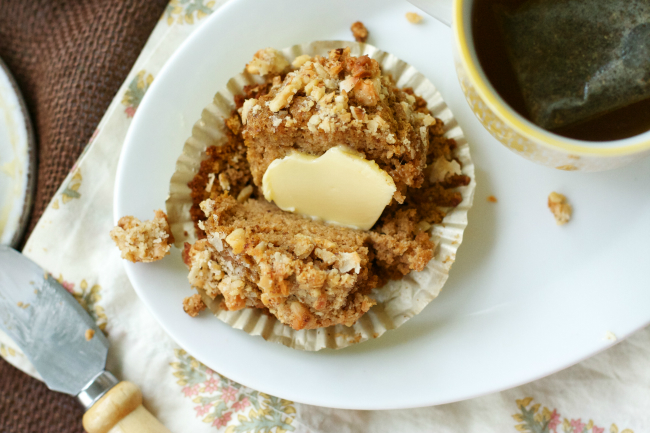 And P.S. That heart-shaped butter is just a coincidence, but consider it a happy Valentine's-Day-related coincidence. Love you guys!
Pumpkin Streusel Muffins (Paleo, Gluten-Free, Grain-Free)
Recipe type:
Breakfast, Baked Goods
Ingredients
For the streusel:
¼ cup softened butter or coconut oil
¼ cup almond flour
2 tablespoons unrefined sugar of choice
½ teaspoon sea salt
1 cup nuts, chopped (I used half walnuts and half macadamia nuts. Pecans or almonds would be great, too. If you like chunkier streusel, you don't have to pre-chop the nuts.)
½ cup unsweetened coconut chips or shredded coconut
For the muffins:
½ cup pumpkin puree
½ cup melted coconut oil or butter
6 eggs
¼ cup maple syrup
1 teaspoon vanilla
½ teaspoon sea salt
¼ teaspoon baking soda
2 teaspoon cinnamon
1 teaspoon ginger
½ teaspoon nutmeg
¼ teaspoon allspice
¼ teaspoon cloves
⅛ teaspoon black pepper
½ cup coconut flour
Instructions
Preheat the oven to 350 degrees. Grease a muffin tin or line it with 12 muffin liners.
To make the streusel topping, combine the butter/coconut oil, almond flour, unrefined sugar, sea salt, nuts and coconut in the bowl of a food processor. Pulse until the ingredients are loosely combined. Set aside.
To make the batter, whisk pumpkin, coconut oil/butter, eggs, maple syrup and vanilla. Add spices, baking soda and coconut flour and whisk until it thickens up.
Spoon the batter into 12 muffin cups. Top with the streusel. Bake for 30-40 minutes or until a toothpick comes out clean. Let cool on a wire rack for at least 10-20 minutes. (To make sure the streusel doesn't get too brown, you can top the muffins with some foil about half way through baking.)