Shepherd's Pie with Cauliflower Topping (GAPS, Paleo, Grain-Free, Dairy-Free Option)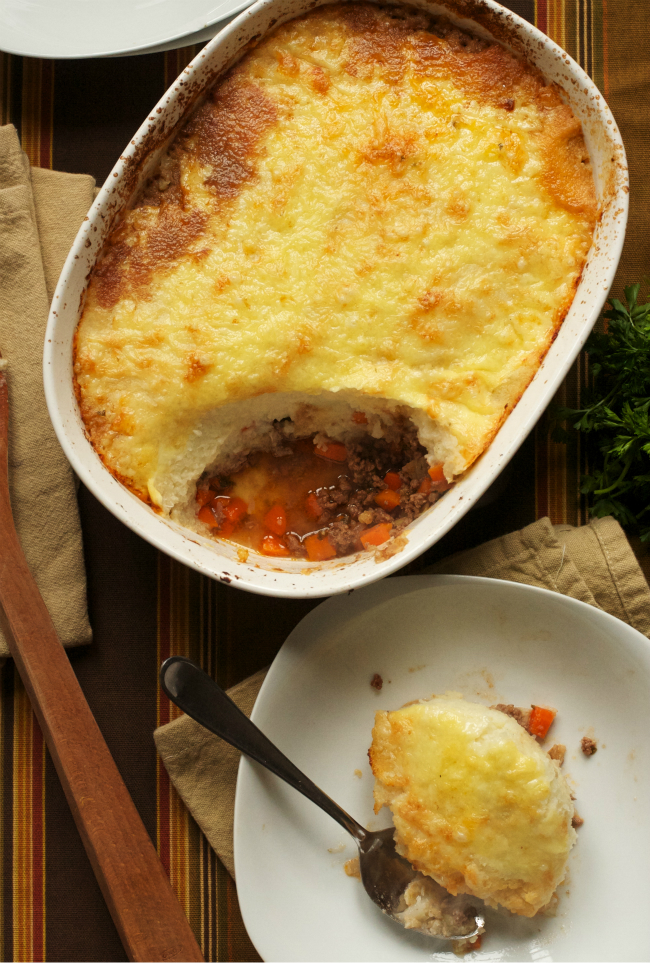 Good morning, hello, how are you?
I made you some pie.
But first, let's talk about blogging for a minute.
Food blogging is a funny little part of my life. Most people I come in contact with in "real life" don't even know I do it; whereas you guys only know about what gets posted here, only this little shared piece of me. Sometimes I feel like my head is bursting with ideas and all I want to do is camp out in the kitchen, test things out and share them with you. Other times, blogging is just off my radar completely. We just go about our business as a family for a while and suddenly (usually during a bang-up meal) I realize that I haven't been blogging.
Blogging has changed a lot in the past five years. Heck, my life has changed a lot in the past five years. When I first started blogging, I did it because I really enjoyed baking and cooking and documenting what was going on in my kitchen. I had no kids, I had plenty of time. Then the blog grew a little bit and I started to put more importance on posting however-many-times a week, making sure I was hitting up social media and doing all the "right stuff" as a blogger. And I went through a period where I felt really guilty if I wasn't keeping all of those things going. Spoiler Alert: I can not keep all that stuff going. haha
Now, I'm a mom of two, working on putting together a new house and making it a home. You better believe I have been churning out some great meals for my family that I'd love to share, but I just got out of the groove of setting up photos. Lots of good meals have gone undocumented. Sometimes I still feel guilty for not sharing all of that good stuff with you guys, but realistically, I know that you understand that I have a real life to live outside this slice of the web. So, just thanks for being awesome and going with the flow.
I'll start talking about the pie now.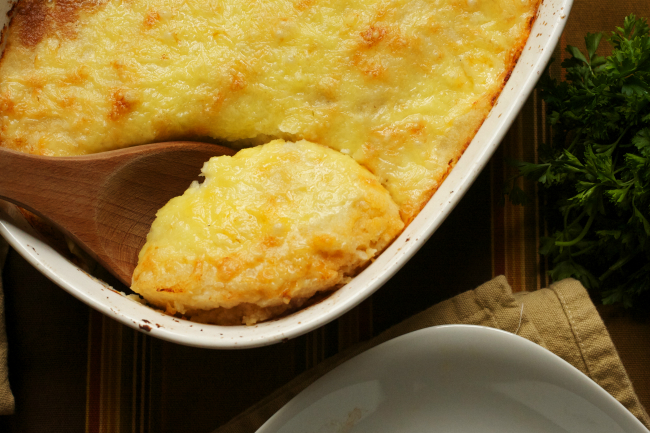 This Shepherd's Pie wasn't some long-thought-out plan to reduce potato consumption or GAPS-ify a classic recipe. I just had a head of cauliflower and some ground beef that needed using and this is what happened. I saw it coming out of the oven all bubbly and brown and my brain said, "Take a picture, fast, and then let's eat this thing!"
Cauliflower is like the classic nerd-that-turns-popular story, am I right? People never really gave it much thought before, but now it is everywhere! Cauliflower pizza crusts and faux-tatoes and cauli-rice galore. Good for you, cauliflower. Enjoy your 15 minutes of vegetable fame. You and your versatility deserve it.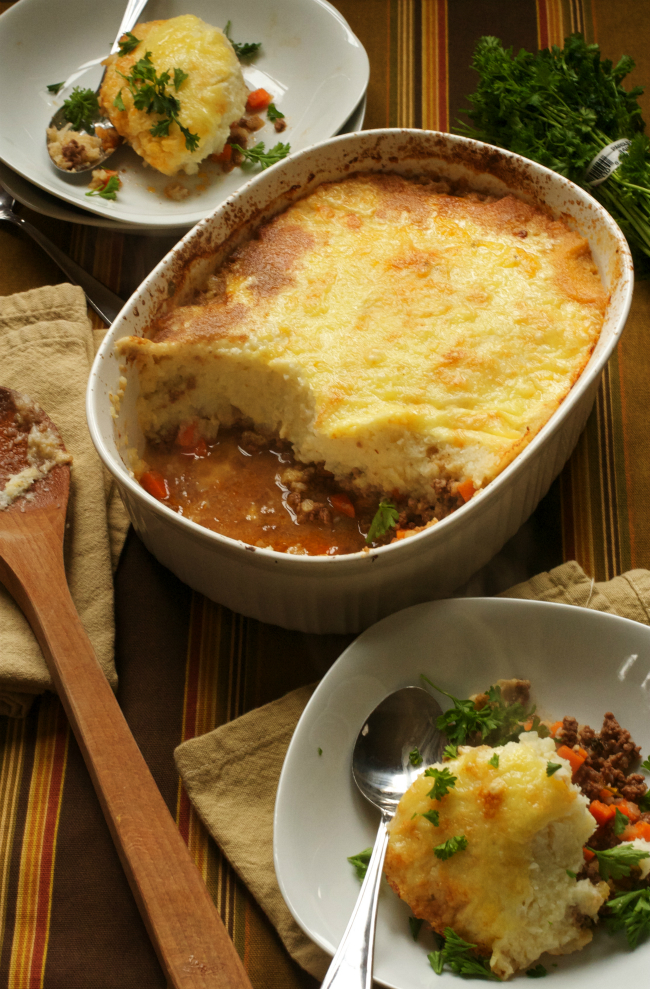 This is similar to a classic Shepherd's Pie, just with the potatoes swapped for cauliflower. I did add cheese on the top, but you can leave it off if you must. If you're on the fence, though, definitely leave it on- it's awesome. I used extra sharp cheddar. Treat Yo' Self.
Perfect meal for fall, you guys! Dinner on the table in about an hour. What's not to love?
Shepherd's Pie with Cauliflower Topping (GAPS, Paleo, Grain-Free)
Ingredients
1 head cauliflower, chopped into florets
2 tablespoons fat (lard, tallow, ghee, coconut oil, etc)
1 small onion, diced
2 celery ribs, diced
2 carrots, diced
2 cloves garlic, minced
1 pound ground beef or lamb
¼-1/2 cup homemade beef broth
1 tablespoon homemade ketchup or tomato paste (omit if you don't have a GAPS-legal or Paleo option)
2 tablespoons chopped parsley
salt and pepper to taste
2 tablespoons fat (lard, tallow, ghee, etc)
½ cup shredded GAPS-legal cheese (omit for Paleo)
Instructions
Preheat the oven to 400 degrees. Grease a 2-3 quart casserole dish and set aside.
In a large pot, steam or boil cauliflower until tender.
Heat 2 tablespoons of fat in a large skillet or saucepan over medium high heat. Add the onion, celery, carrots and garlic and cook until beginning to soften, around 5 minutes.
Add the ground meat to the pan and cook until browned. Add beef broth as necessary to keep the mixture wet. Add the ketchup or tomato paste (if using), parsley and season with salt and pepper. Let simmer while you prepare the cauliflower topping.
To make the topping, drain the cooked cauliflower. Mash or puree with a stick blender until smooth. Add 2 tablespoons of fat and season with salt and pepper.
To assemble, spread the meat mixture on the bottom of the dish. Top with the cauliflower mixture and smooth with a spoon. Cover with shredded cheese, if using.
Bake for 30 minutes or until the top is brown and bubbly. Serve warm.