Grain-Free Fat Almond Pancake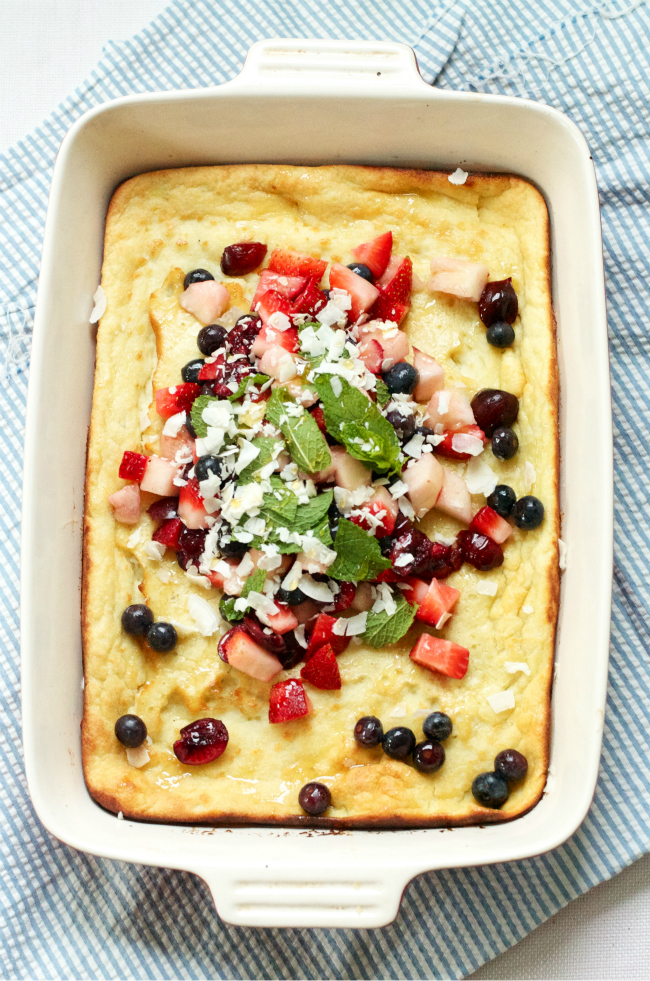 A few weeks ago, I pinned this Fat Almond Pancake from Green Kitchen Stories and I knew I had to make one. (Definitely check out their blog, it's gorgeous!) The original recipe wasn't exactly grain-free, but I knew I could do some tweaking and make easily make it GAPS-friendly. I just loved the look and ease of it. And mainly, I just loved that it was called a fat pancake.
And so I hit the kitchen and came up with this beautiful thing. I mean, don't you just want dig your spoon in there? You do. Trust me. We ate it hot and fresh from the oven for breakfast.. and then we ate it cold in the back of the car as we watched a freak rain storm.. then the kids finished it off during their bath time. So, yeah. We liked it.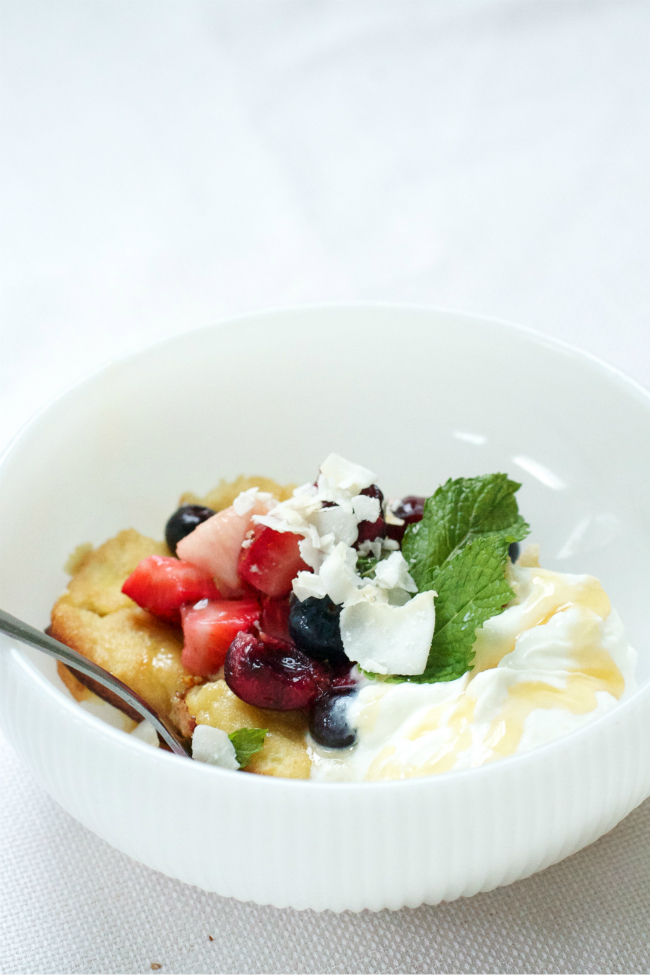 Surprisingly, we all preferred to eat this cold. You can taste more of the almond flavor and the sweetness. I couldn't tell you if it keeps well.. I imagine you'd want to eat it all in a day or two- let me know if it lasts that long in your house, I'd love to know how it keeps.
If you're wondering, the fruit on top is a mix of strawberries, white peaches, blueberries and cherries. Any fresh summer fruit will do, but I love the look of the red, white and blue. Especially with the 4th coming up! This would be a perfect dish to whip up if you're having company for the holiday.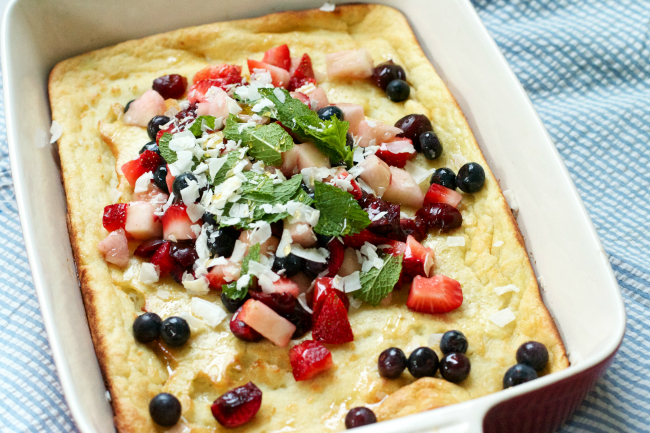 Fat pancakes! It's a thing.
Fat Almond Pancake (Grain-Free, GAPS, Paleo)
Ingredients
5 eggs
2 cups milk (cow's, coconut, almond.. etc)
½ cup pureed squash, apple or pear (or more milk, if you like)
2 tbsp honey or maple syrup
1 tsp sea salt
1 cup plus 2 tablespoons almond flour
2 tbsp organic butter or coconut oil
chopped fresh fruit, mint, yogurt, honey and coconut chips for serving
Instructions
Preheat the oven to 450 degrees. Place a 8×11 casserole dish in the oven to warm up.
While your dish is warming, whisk eggs, milk, squash and honey in a large bowl. (To make sure your honey is well incorporated, keep your ingredients at room temperature or whisk vigorously as you add the honey.) Make sure you have no lumps in your almond flour and add it to the liquid ingredients along with the salt.
Take the pan out of the oven and add the butter or coconut oil and swirl it around as it melts. Add the batter to the pan.
Bake in the oven for 20-25 minutes or until the pancake is set and golden brown. Top with chopped fruit, honey, mint and coconut chips; then serve in bowls with yogurt.