Coffee Cake (Grain-Free, Paleo, GAPS)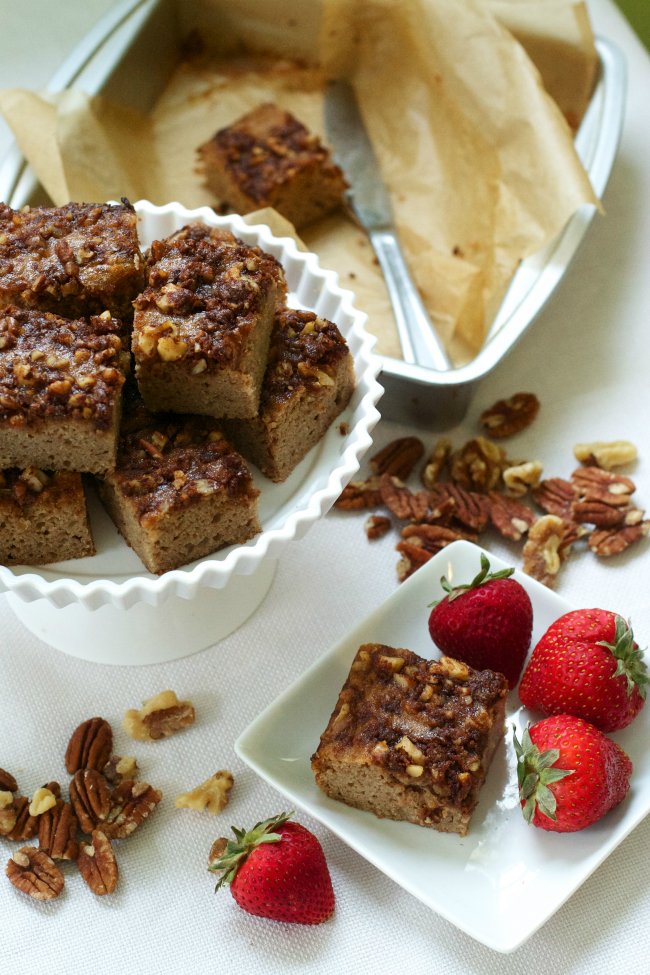 The scene in my kitchen at 6:30AM this morning:
Two half-dressed kids are clamoring at my feet for their milk cups to be filled. Three-year-old Elliott climbs up into the helper tower, discovers the pan of coffee cake and yells, "LUCY! CAKE FOR BREAKFAST!" She squeals and nods her head to tell us she's on board. I cut them each a small piece, they chomp away quietly, and then stick out their little hands for more. And so the day begins.
I think one of the best mom tricks for getting your kids to eat a little healthier is to give their food cool names. This definitely isn't "cake" in the normal, American sense of the word, but in our house right now, it's a treat. Especially at 6:30 AM. I feel good about all the ingredients, so I've got no problem serving them this kind of cake for breakfast.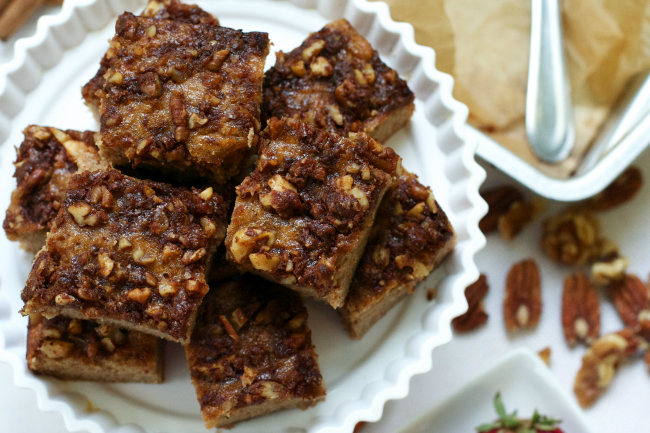 The cake's main ingredients are coconut flour, eggs, coconut oil, squash puree, a little honey and some spices. I get my coconut flour and oil from Tropical Traditions. On top is a "crumb" topping of chopped nuts, coconut oil, cinnamon and some coconut sugar. This is a lovely cake for snacking- it's moist, but sturdy- it'll hold up well in lunch bags or stuffed quickly into your purse when you're on the go. It's great with some fruit and yogurt in the morning, or on your brunch table; the perfect match for your afternoon tea or as a late-night snack without the guilt.
I have missed cake since I've been on GAPS. I know there are GAPS-legal cake recipes out there.. but it's not like I can be eating cake all the time just because it's technically legal. So a little coffee cake like this is just what the doctor (nutritionist?) ordered for me this week. I just have to work on my self-control and try not to eat more than one (or two) pieces a day.
I guess I can always call in my little people to help out with that. Cake for breakfast!
Coffee Cake (grain-free, gluten-free, paleo, GAPS)
Recipe type:
dessert, breakfast
Ingredients
½ cup coconut flour, sifted or lumps removed with a fork
¼ teaspoon baking soda
½ teaspoon sea salt
1 teaspoon cinnamon
½ teaspoon fresh grated nutmeg
½ teaspoon ground ginger
¼ teaspoon ground cloves
¼ teaspoon allspice
6 eggs at room temperature
¼ cup coconut oil, melted and cooled or very soft
½ cup honey
½ cup squash puree (any squash will do; summer or winter. I used acorn squash that I had frozen. You could also use pumpkin, carrot, apple, pear, etc.)
1 teaspoon pure vanilla extract
½ cup nuts, chopped (I used walnuts and pecans)
2 tablespoons coconut or date sugar (you can substitute honey to be 100% GAPS legal, but the topping will be a little stickier)
1 tablespoon coconut oil
1 teaspoon cinnamon
Instructions
Preheat the oven to 350 degrees. Prepare an 8×8 baking dish with parchment paper.
In a large bowl, combine coconut flour, baking soda, sea salt and spices. Make sure there are no large lumps of coconut flour.
In a medium bowl, whisk eggs, coconut oil, honey, squash puree and vanilla extract until well combined.
Pour the liquid slowly into the dry ingredients, whisking well. Continue to whisk until the mixture begins to thicken up. Pour the batter into the prepared pan.
In a small bowl, mix the nuts, coconut sugar, coconut oil and cinnamon. This is your topping. Sprinkle evenly over the batter in the pan.
Bake for 30-35 minutes until golden brown and a toothpick comes out clean. Cool before serving and keep in an airtight container.