Citrus Hoisin Salmon and Sesame Sauteed Kale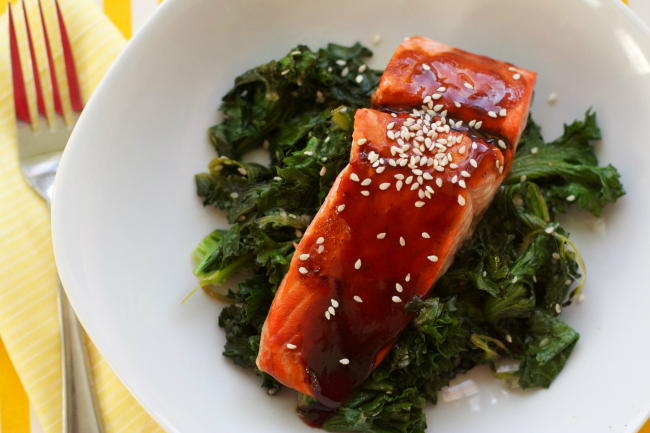 I just remembered that I like fish. How did I forget this? Reasons why:
1. It's quick cooking.
2. You can flavor it with anything.
3. My kids eat it!
4. It's good for you.
5. It's beautiful to look at.
6. It makes me feel fancy.
Seriously, I'm in love! I started getting these giant slabs (fillets, I think? whatever half-a-fish-without-the-head/bones is called) of wild-caught salmon at my grocery store and it is the most beautiful shade of.. well, salmon. And granted, they are frozen and not fresh (that's a whole other conversation) and they ain't cheap, but as far as I know, there aren't any wild salmon swimming in these Georgia waters, so until we get stationed in Alaska (no thanks!), frozen it is.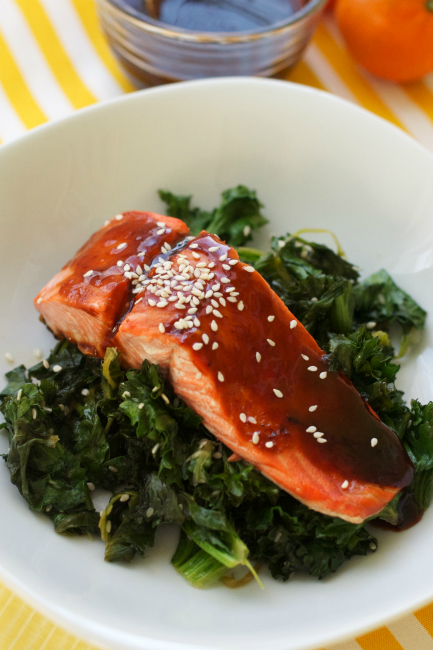 On to the story of this dish. My thoughtful husband usually stops by the farmer's market on Thursdays on his way home from work and brings me all kinds of edible treasures. This week, he showed up with strawberries (it's spring!!), leeks, sweet potatoes, cabbage, pecans, some teeny tiny carrots and a big bunch of kale. I knew I had a little jar of hoisin sauce to use up and a slab'o'salmon thawing, so I thought it would be nice over a bed of sesame kale. Nice, indeed.
If you aren't familiar with hoisin sauce, it's a thick chinese stir-fry sauce. You can find it gluten-free (Wok Mei brand), but I don't think that brand is widely available. It's also got sugar and soy and corn starch, and probably "natural flavors", so I'm not sure it's the healthiest option out there.. but man, is it tasty. Maybe I'll create a homemade version soon. You could substitute soy sauce or teriyaki sauce, but the final sauce won't be as thick (unless you reduce it down on the stove).
If you're not on the kale bandwagon yet, you can substitute another leafy green- bok choy would be a great choice. Serve with rice if you're looking for a heartier meal (or leftover mac-and-cheese like the rest of my little family.. you know, do what works.)
I heart salmon!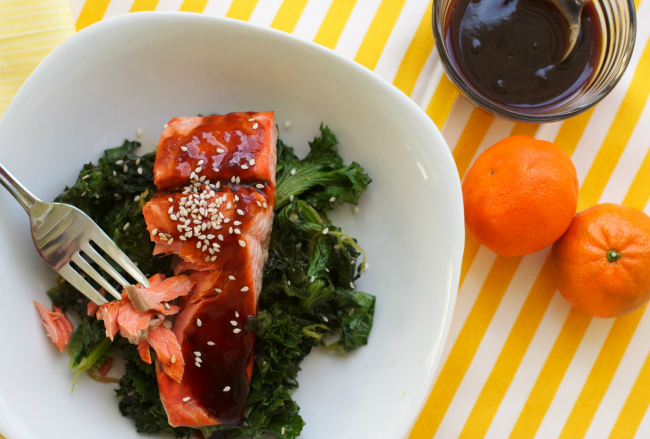 Citrus Hoisin Salmon
Ingredients
1 wild-caught salmon fillet (fresh or thawed from frozen), cut into portions, or about 6 individual portions (Basically I'm saying if you get half a fish, cut it up. If it's already cut into pieces, that's fine, too.)
⅓ cup hoisin sauce (If you need gluten-free, try Wok Mei brand)
2 tablespoons fresh citrus juice (orange, clementine, tangerine, etc)
2 tablespoons honey
salt and pepper
sesame seeds, for garnish
Instructions
Preheat your broiler on high.
In a small bowl, mix hoisin sauce, citrus juice and honey until combined.
Place salmon portions in a glass baking dish. Season each piece with salt and pepper and brush with the half of the sauce. Save the other half of the sauce for later.
Broil for 8-10 minutes or until salmon flakes easily and is cooked through.
Serve immediately, drizzled with the remaining sauce and sprinkled with sesame seeds.
Sesame Sauteed Kale
Ingredients
1 tablespoon coconut oil
1 teaspoon sesame oil
1 bunch kale, rinsed and stems removed
salt and pepper
1 tablespoon soy sauce (gluten-free, if necessary)
1 tablespoon sesame seeds
1-2 teaspoons citrus juice (orange, clementine, tangerine, lemon, etc)
more sesame seeds, for garnish
Instructions
In a large skillet, heat coconut oil and sesame oil over medium-high heat.
When the skillet is hot, add kale and saute until it begins to wilt.
Add seasonings- salt and pepper, soy sauce, sesame seeds and citrus juice. Mix and continue to cook until wilted and soft.
Garnish with sesame seeds and serve immediately.