Carrot Cake Baked Oatmeal with Cream Cheese Topping (Gluten-Free, Refined Sugar Free, Dairy-Free Option)
I have had this idea in my head for so long. Carrot cake baked oatmeal… carrot cake baked oatmeal.. I just couldn't shake it! I typically make this simple baked oatmeal and we just switch up our toppings, but it was high time I got to experimenting with the recipe.
Before we move on, can we just say "Hello, gorgeous!" to that pour shot up there? I actually had a spare minute to get out my tripod, only to realize it wasn't really working properly.. but somehow I got a pour shot in the midst of it all. I'm a happy food blogger today!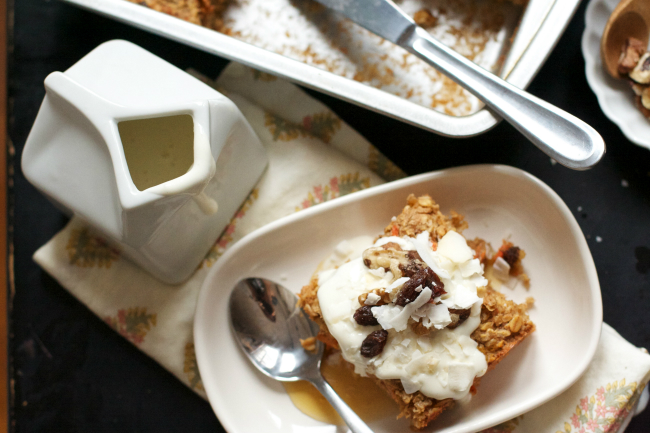 Food blogging is a funny thing. There's so much that goes into each post that you guys don't see! I'd invite you to come hang out with me here for a day to see what goes on, but I never actually know what day I'll be working on "blog stuff."
Take this oatmeal for instance.
The idea popped into my head months ago. I wrote it down while I was brainstorming blog ideas back in January. I finally got around to making it earlier this week. I waited until mid-day to make it so that I'd be able to photograph it in the afternoon light.. so we didn't actually eat it for breakfast that day. I waited until the little one took her nap and the big one started his quiet time to start shooting.
I pulled our coffee table over by the window with the best light, grabbed all the toppings and tiny dishes and utensils and set up my shot. I fumbled with the tripod for a while, gave up, got my shots. I hooked up the camera to download and ate one of the servings of oatmeal from the shot. Then I started to clean up.. and ate the other one, ha! (Because, you know, one for me and one for baby. Totally logical.) I looked through the pictures quickly, then I didn't actually get around to editing them or writing this post until a few days later. Now here we are!
Sometimes the process isn't drawn out like that, but there's usually something around here that gets in the way of productivity. Usually my own laziness.. or lack of natural light. 😉
Anyways, loves, this oatmeal is top notch. I'm so happy to share it with you, even if it took months for me to do it.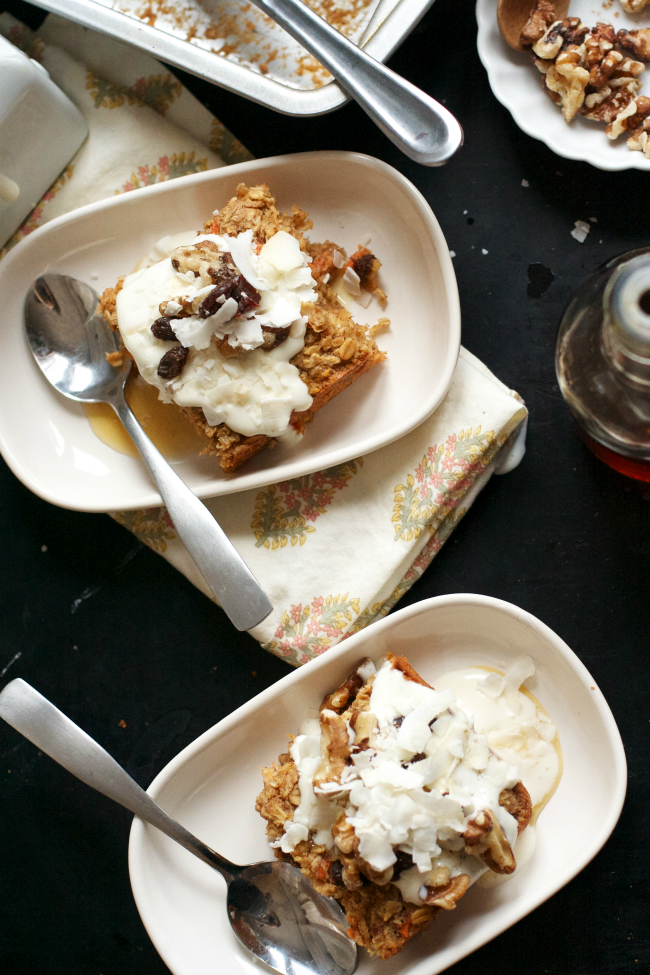 It's not complicated to replicate that classic carrot cake taste. The big players are (of course) carrots, cinnamon, nutmeg if you're feeling funky, raisins, walnuts and coconut, if you're into it. I will say right now that I am not into pineapple in my carrot cake.. I think adding pineapple makes it more like hummingbird cake (which is also delicious, but is not carrot cake).
But let's not forget the most important part- the cream cheese. Oh, you have got to have the cream cheese. The cream cheese makes it perfect. (Unless you are dairy-free, but you can top it with this delicious cashew cream instead!) I didn't want to slather it with frosting (I mean, I did.. but it IS supposed to be breakfast, people), so I spun up an easy cream cheese topping in the blender and it was the best idea EVER, no joke.
You guys, this cream cheese topping.. it just kills it. The picture below explains perfectly. On the left side, you'll see an appropriate amount of the cream cheese drizzle and toppings. On the right, the obscene amount I drowned my portion with after I took a bite. Then I took another bite and thought, "WHAT THE WHAT?! This stuff is insane!"
Maybe I'm over-reacting about oatmeal? But really, I'm obsessed.  Don't wait too long to try this one!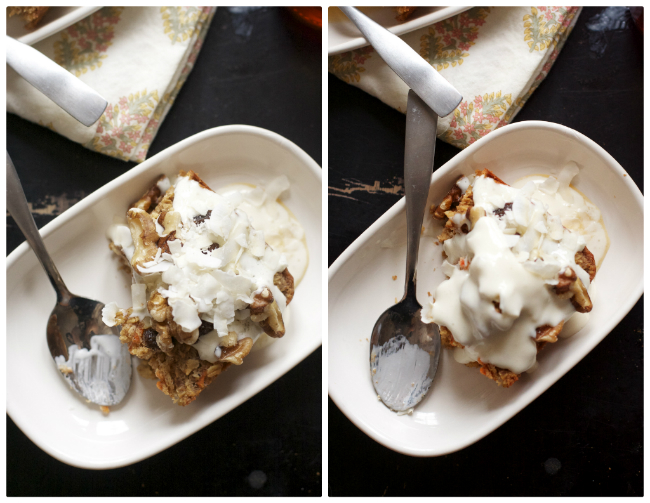 P.S. You can make right away, the night before, or days ahead. You can also cut into squares and freeze for later!
Carrot Cake Baked Oatmeal with Cream Cheese Topping
Recipe type:
Breakfast, Brunch
Ingredients
2 eggs, room temperature
¼ cup maple syrup
1 teaspoon baking powder
1 teaspoon pure vanilla extract
1 tablespoon cinnamon
½ teaspoon fresh grated nutmeg
¼ cup melted coconut oil or grass-fed butter
½ cup applesauce (you can substitute carrot puree for extra carrot flavor)
2 medium carrots, grated (you can add more if you like)
1¼ cup milk, dairy or non-dairy
3 cups oats, gluten-free if necessary
½ cup chopped walnuts or pecans
¼ cup raisins
¼ cup shredded coconut
For the cream cheese topping: 4 ounces cream cheese at room temperature
¼ cup milk, room temperature (you may need a little more if you want the sauce thinner)
1 teaspoon pure vanilla extract
1-2 tablespoons raw honey or maple syrup
extras for serving- walnuts, raisins, shredded coconut or coconut chips, maple syrup
Instructions
Coat an 8×8 or 2 quart baking dish with butter or coconut oil.
In a large bowl, whisk together eggs, maple syrup, baking powder, vanilla, cinnamon, nutmeg, melted butter/coconut oil, applesauce and milk. Fold the oats, carrots nuts, raisins and coconut and combine well. Transfer the oat mixture into the baking dish and spread evenly around.
To bake right away: Preheat the oven to 375 degrees. Let oat mixture sit and soak for 20-30 minutes at room temperature while the oven is preheating. Bake at 375 degrees for 30 minutes or until oatmeal is set and edges are brown.
To bake later in the day or the next morning: Cover your dish tightly with plastic wrap, pressing the plastic directly on top of the oat mixture. Refrigerate overnight. In the morning, preheat oven to 375 degrees. Unwrap oatmeal and place in oven. Bake for 30 minutes or until oatmeal is set and edges are brown.
To make the cream cheese topping, combine the cream cheese, milk, honey and vanilla in a blender. Blend until smooth and creamy.
Serve hot with: cream cheese topping, maple syrup, raisins, walnuts and coconut.