Thursday Things.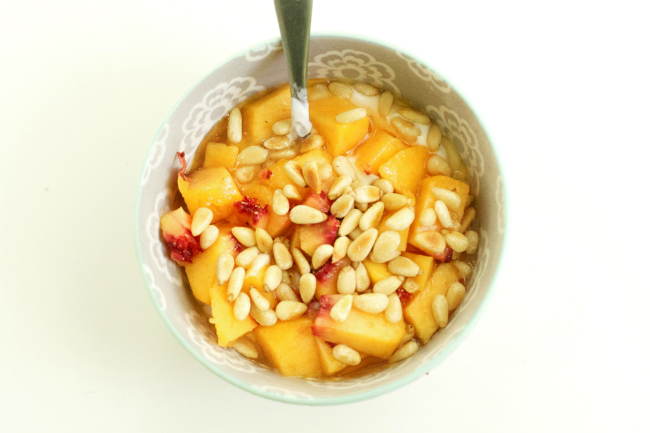 You guys. That bowl of yogurt is my new obsesh. Yogurt, peaches, honey, toasted pine nuts. So glad I found that random half bag of pine nuts when I was cleaning out the pantry. Gold, I tell ya.
As you know, we're in the thick of the moving process. While I'm eating random bowls of delicious yogurt and taping boxes shut/ripping them open again, you'll get to enjoy more guest posts by my food blogging pals. I'm looking forward to getting settled and working on new content.
Until then, some Thursday things.
Corn and Cotija Guacamole. Already amazing, and then he went ahead and added bacon.
Jenni went ahead and did it again with Lemony Carrot Apple Bombs.
Beet lemonade sounds crazy and awful and awesome all the same time.
I have seriously got my eye on Tina's crispy shallot, bacon and brie burger. Yes and yes.
This ice cream kombucha float seems like the most logical way to drink our booch.
I'll have a melon gin and tonic in each hand, please.
This is how I hard-boil my eggs, too. Works every time!
Oh, yeah- I'm at MPMK today sharing 16 drool-worthy stone fruit recipes. Go get you some.
Also, I'm a little teeny bit obsessed with Twitter again, so come find me @natalieherr and say hello!