Surviving GAPS Intro: Stage 3
For the next 6 weeks, I'll be chronicling my journey through the GAPS Intro Diet with a little self-made questionnaire.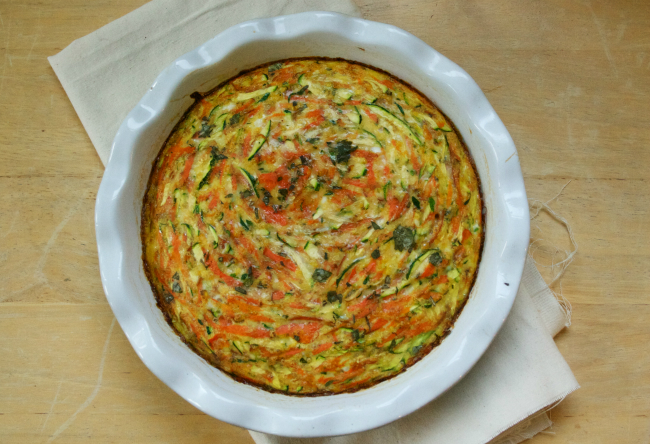 What did I eat on Stage 3?
Hooray for Stage 3! Eggs and avocado are back!!
Scrambled Eggs in Tallow (so glad to have my whole eggs back!)
More meatballs.
Cauliflower Soup, Squash Soup
Beef and Broccoli Soup
Beef Vegetable Soup
Swirly Crustless Quiche (pictured above, recipe via Practical Paleo)
Crockpot Cilantro Chicken with Onions, Green Beans and Avocado (pictured below, recipe below)
Pancakes (made with squash, eggs and homemade walnut butter)
Poached Salmon with Celery Roots/Cauliflower/Onion Mash
Lots of Bone Broth and Tallow and Salt and Garlic and Sauerkraut
Did I see any changes or patterns in my symptoms?
I started taking some supplements this week for support. I was already taking my pre/probiotic and fermented cod liver oil, but I added some digestive enzymes, some hydrochloric acid and some Gastrazyme for extra support. I have seen a difference and I'm hoping the trend continues! I really think my gut lining needs help healing before the pain will disappear, but I was only ready to tackle all of the supplements after I had a few weeks of solid foundation on the diet.
Any practical advice from Stage 3?
Take your time adding in the new foods. It is really exciting that in Stage 3 you get to add whole eggs, pancakes made with nut butter and avocado- but you don't want to go overboard or try them all on the same day. Slow and steady is best- try scrambling 1-2 eggs or mashing just 1-2 tablespoons of avocado and eating it with your soup; or try just adding one pancake until you're sure you can tolerate them.
Also, don't forget to keep up your bone broth! I have gone a little slack with it since I've been adding foods. Make sure it stays a central part of every meal!
Any encouragement for people in Stage 3?
You are strong, you can do this! Don't be discouraged if this stage takes a little longer as you work to introduce new foods to your diet. It may be the first time that you try a food that doesn't work for you- that is okay! Every person is different- what you are trying to do is find out what works best for your body. Keep at it, day by day.
Crockpot Cilantro Chicken with Onions, Green Beans and Avocado
Recipe type:
Main Dish, Crockpot
Ingredients
4 large onions, sliced
4 cloves of garlic, minced
a handful of cilantro, chopped
8-10 chicken bone-in chicken pieces (I used thighs, but bone-in breast and drumsticks would be great, too)
2 cups chicken broth
salt and pepper to taste
1 lb green beans, trimmed
1-2 avocados, mashed or pureed
more cilantro, for serving
Instructions
Combine onions, garlic and cilantro in a slow cooker and top with the chicken pieces. Pour broth over top and add salt and pepper to taste.
Cook on high for 4-6 hours or until chicken is tender and onions are soft.
About 30 minutes before you're ready to eat, cook the green beans- if the liquid in the crockpot is boiling, you can add them to the crockpot. If not, steam them or boil them in broth and then add to the plate afterwards.
To serve, spoon the onions and chicken into a shallow bowl, add the green beans and top with the avocado and more fresh cilantro.