Spiced Nut Butter Balls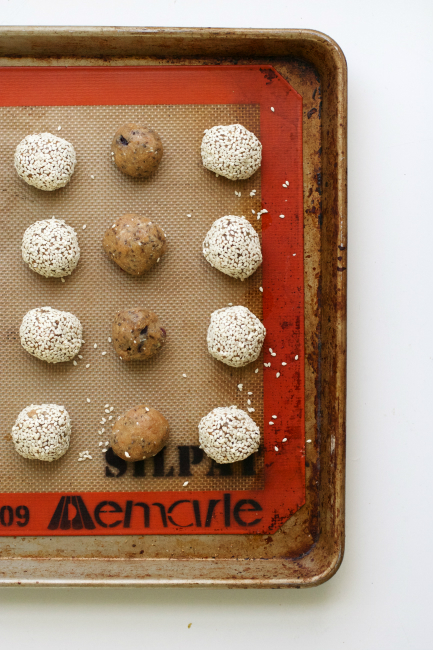 I am a fool for this snack ball trend.
They are so good! So easy to pull together! So much better to snack on then junk food!
The one thing they don't have going for them is a good name- Nut Balls is just awful. So is Snack Balls. Energy Balls? Nut Butter Balls? A little bit better, but not by much. I think I'll quit before this becomes an entire post about naming snack balls. (Ugh, I even hate typing that!)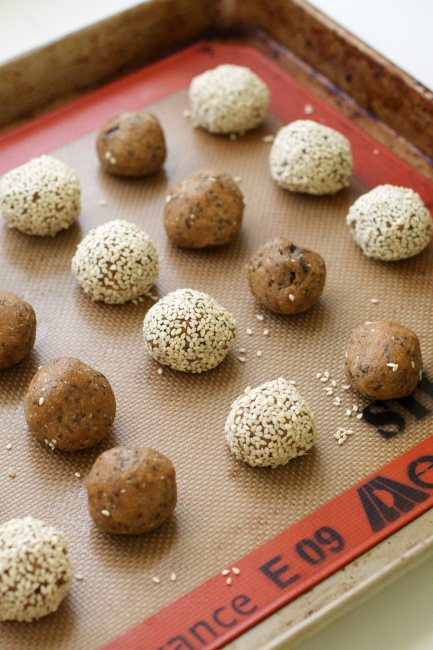 Let's call them snack bites instead, shall we?
I feel a lot better about snack bites. My mood is changing already!
I found this lovely recipe at The Gracious Pantry and of course I junked it up with more nut butters and extra seeds and things. I couldn't resist! They just needed to be rolled in something.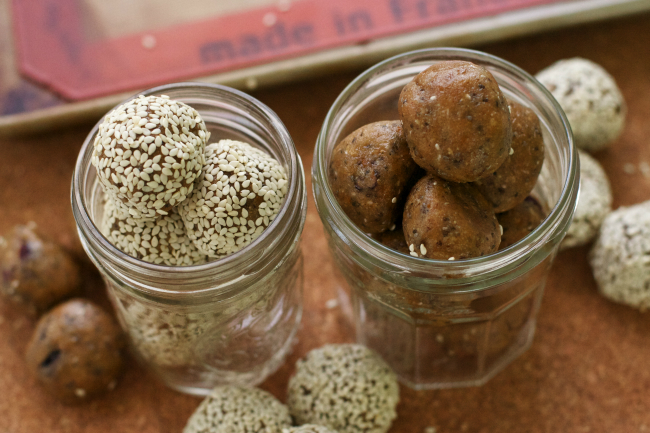 I have to admit, though, that I actually like the plain ones better. The sesame seeds get stuck in my teeth (awesome mental picture of me happening right now, you're welcome). Don't let that stop you now, both taste great- you could roll them in shredded coconut, too, if you're more into that.
I think these will keep in the fridge or freezer for quite a while, but I can't tell you from experience. They go fast in this house. Last night, I pulled some out for the family to taste test and the kids full-on grabbed them from my hands and devoured them, then looked at me like rabid dogs until I brought out a few more. My one-year-old daughter literally shoved a whole one into her mouth without a second thought. It was like watching a snake swallow an egg or something, I couldn't look away. My advice is to make these after your kids go to bed and hide them in the back of your freezer if you ever want to taste them. Just sayin'.
(Disclaimer- She didn't actually swallow it whole, she did chew.. I would not stand idly by and watch her choke, I promise.)
Oh, and they're called spiced nut butter balls because there are spices in there! Cinnamon, nutmeg, ginger, allspice, cloves, the whole gang. Even orange zest joins the party. As usual, you can take them or leave them, whatever your preference. I think it's fun to eat these so-called cold-weather spices all year long, but if it's not your thing, that's cool, too. Just don't wait until fall to make these- they taste great right now. (Just ask my kids.)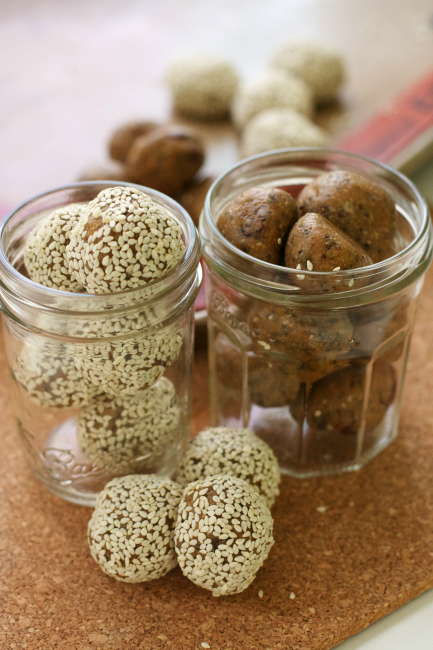 Spiced Nut Butter Balls
adapted from The Gracious Pantry. http://www.thegraciouspantry.com/clean-eating-spiced-almond-butter-balls/
Ingredients
1¼ cups almond meal
¾ cup nut butter (I use ¼ cup almond butter, ¼ cup sunflower seed butter and ¼ cup tahini/sesame paste)
¼ cup chia seeds or sesame seeds (or a mix of both)
¼ cup plus 2 tablespoons maple syrup
1 teaspoon vanilla
Zest of ½ large orange
½ cup dried cranberries (sweetened with fruit juice if you can find them that way)
1 teaspoon cinnamon
½ teaspoon ground ginger
½ teaspoon ground nutmeg
¼ teaspoon ground cloves
¼ teaspoon allspice
¼ cup shredded coconut or almond meal (optional)
sesame seeds or shredded coconut, for rolling
Instructions
Combine almond meal, nut butter, chia or sesame seeds, maple syrup, vanilla, orange zest, dried cranberries and spices in large bowl and mix well. If the mixture seems too wet, add the additional shredded coconut or almond meal until you have a firm dough to roll.
Form into balls. Roll them in sesame seeds if you like.
Place balls on a parchment lined cookie sheet and place in the freezer for at least 2 hours.
Store in the refrigerator or freezer in an airtight container.