Salmon, Swiss Chard and Egg Skillet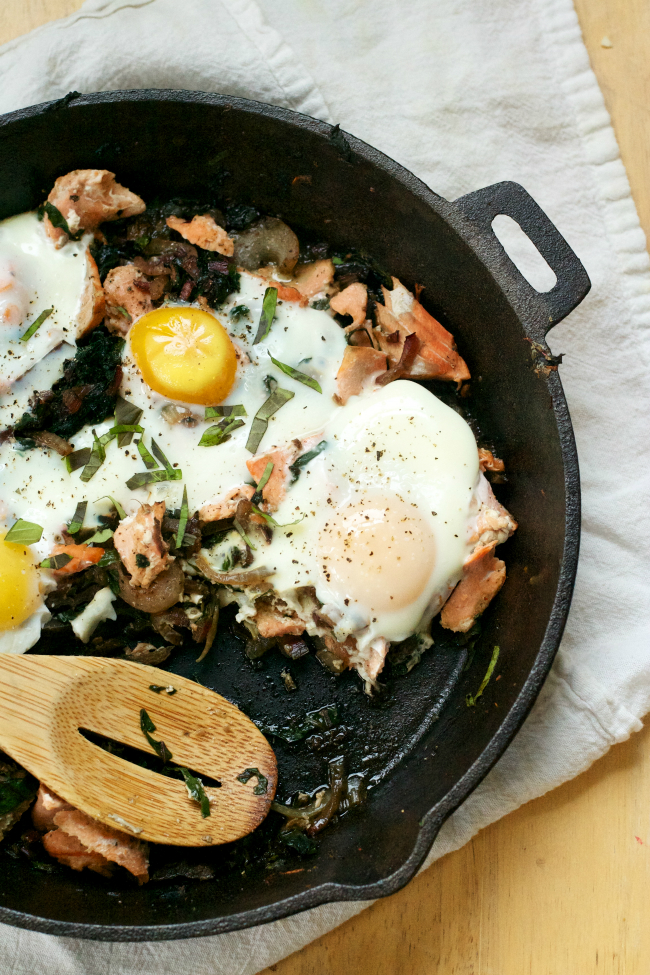 It's been a minute since I posted a savory recipe, hasn't it? It's been all juice concoctions and coffee cake and pancake stacks up in here lately.
It's a lot easier to post things like fat pancakes and banana bread that  I can photograph during nap time than it is to catch a photo of what we're actually eating for dinner. (All my food bloggers out there know what's up.) I have lots of savory meals I'd love to share with you, I just have to figure out the logistics.
I have a bit of a thing with breakfast/breakfast-for-dinner foods. More specifically, baked eggs. The last savory item you saw here on Oven Love was Baked Eggs with Spinach and Bacon, which is a no-brainer combination that I had to share. If you haven't tried those yet, add 'em to your list- you won't be sorry.
Now here I am putting a whole skillet of baked eggs in your face. Can you blame me, though? I would eat a tree branch if it were covered with runny egg yolk. (Ugh, please, no one take me up on that.) Dippy eggs for life!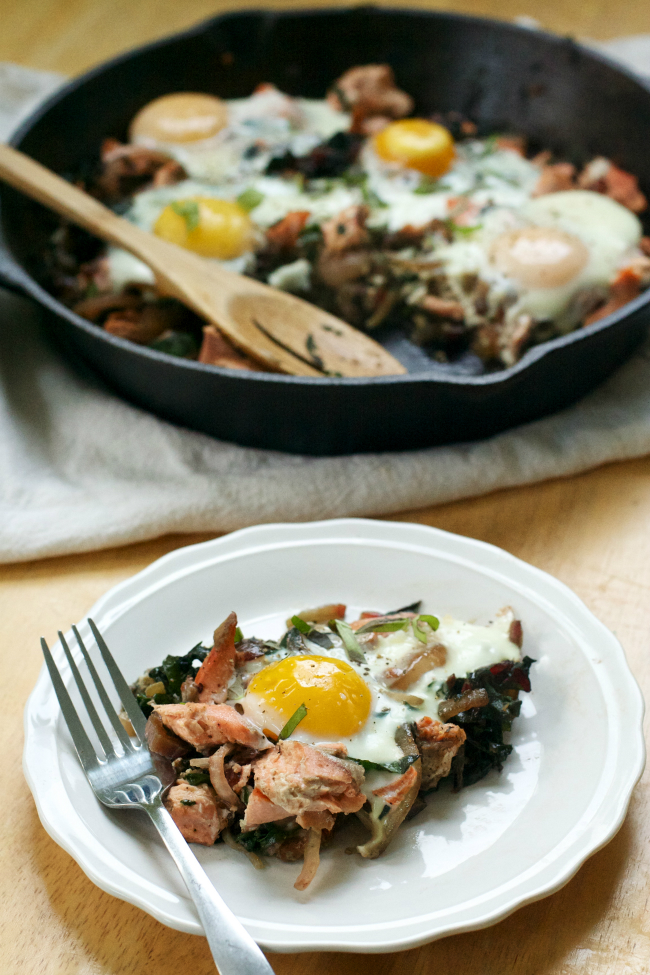 You guys this is a ONE DISH meal. All you need is the skillet. Hallelujah for less dishes! I am the queen of the giant, everlasting dish pile. If you've ever spent more than an hour or two at my house, you've seen it. You also might have seen it here.
It is also a FIVE-ingredient meal (if you don't count the cooking fat, salt and pepper). Win.
By the way, I have been toying with the idea of writing an e-cookbook of five-ingredient meals. The recipes would be whole-food, grain-free and labeled as Paleo/GAPS/Whole 30/Blah-Blah-Blah. 😉  Meals like this one that are simple, but not bland. Easy, but still interesting.
Is that something you guys would be into?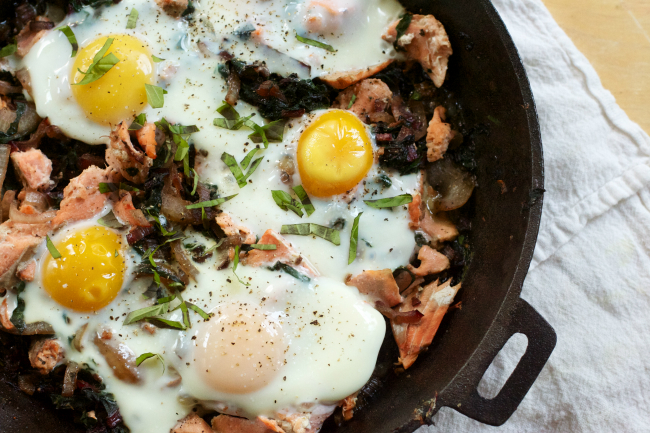 Because if you're into it, I'm into it! I feel like I've gotten into a bit of a same-old-same-old rut with the blog and I need a new project to inspire me. If that idea sounds lame and you want me to just continue posting and keeping things normal, then I'm cool with that, too. I just want us all to be a big, happy family with full, happy bellies.
If you have any other cool ideas you think I should take on, share those with me, too! I'd love to hear about them.
Also, a few more things about this meal:
You can swap out the salmon for any other hearty fish or meat (or even more veggies)

You can substitute kale, spinach or another dark leafy green for the chard
You can use pre-cooked salmon for a meal that comes together even faster
You should probably smother this with mashed avocado, just to be safe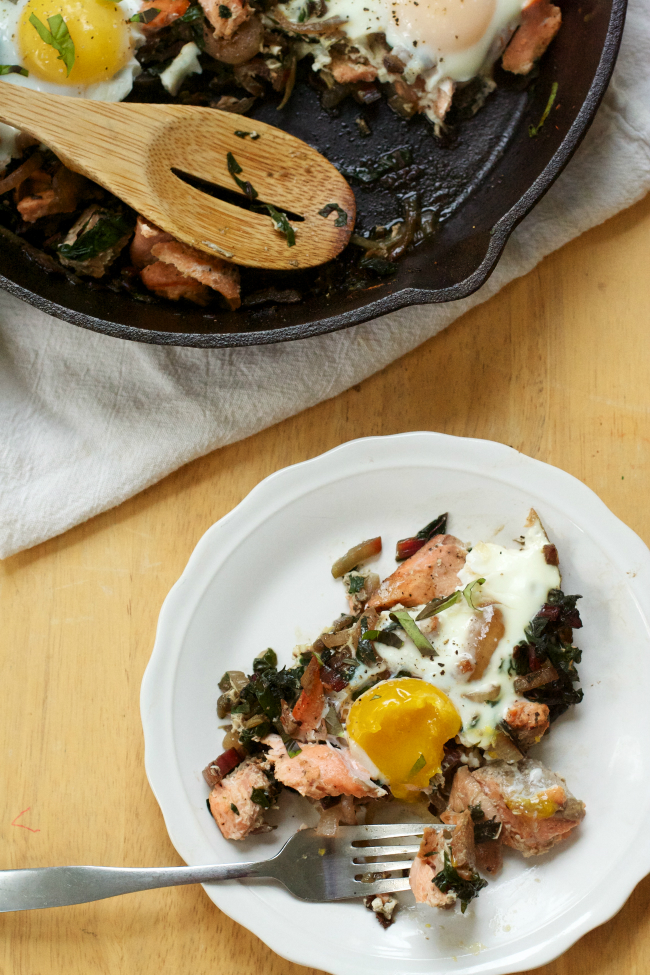 Salmon, Swiss Chard and Egg Skillet
Ingredients
4 tablespoons butter
12-16 ounces fresh salmon (or other hearty fish)
1 onion, sliced
1 bunch Swiss Chard, chopped (stems included if you like them)
1 clove garlic, minced or grated
salt and pepper
4-6 eggs
fresh herbs for garnish (optional; I used a bit of basil on top)
Instructions
Heat a cast iron skillet over medium heat and preheat your oven to 375 degrees.
When the skillet is warm, add the butter until it sizzles. Add the salmon and cook on both sides until it flakes easily with a fork, about 5 minutes per side (depending on how thick your salmon is). Set the salmon aside. **You could also use previously cooked salmon to make this an even faster dinner.**
Scrape any bits of salmon skin off of the pan and add more butter, if needed. Fry the onion in the butter until it begins to soften. Add the chard and continue cooking until it wilts. Then add the garlic and season with salt and pepper. Continue cooking until the vegetables are soft.
While the vegetables are cooking, flake the salmon into large chunks with a fork. After the veggies are cooked through, add the salmon to the skillet. Give it one gentle stir to incorporate.
Crack the eggs on top of the salmon mixture. Put the whole skillet in the preheated oven and cook until the eggs are set to your liking (anywhere from 5-15 minutes). Check them often so you don't overcook and serve immediately out of the oven.