Roasted Red Pepper Dip and Valentine's Day Veggies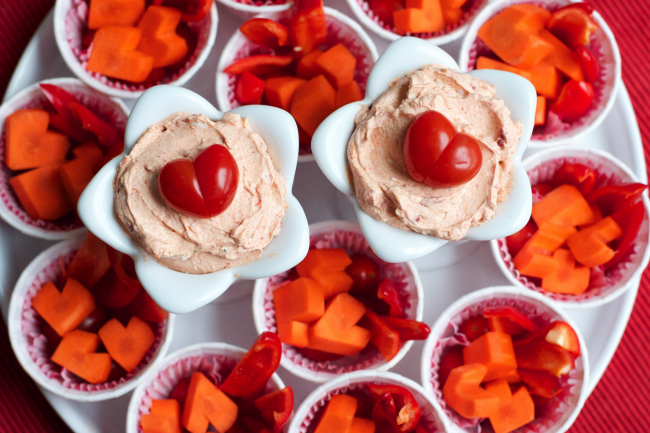 Veggies for Valentine's Day! Let's make it a thing.
It's not exactly a box of chocolates, but it's kid-friendly and pretty adorable. Who can say no to heart-shaped vegetables?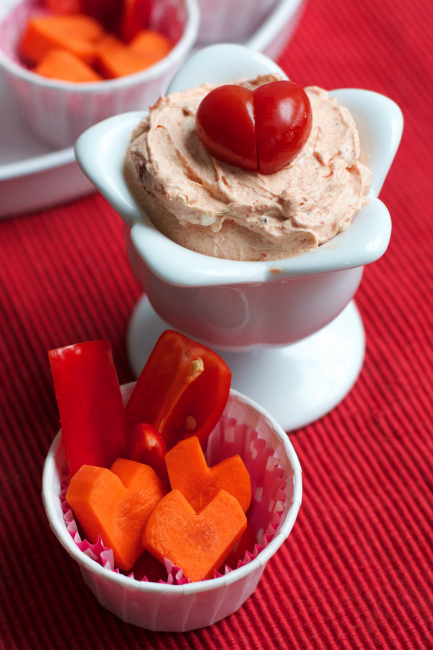 I made up this little tray for a kids' Valentine's Day party in under an hour this morning. That includes chopping, arranging the plate and making the dip. And I did it all with kids underfoot or in one of my arms. (Can I get a virtual high five?) Here's how it went down:
Clean and prep all the veggies (I used cherry tomatoes, carrots and red peppers.)

To make the heart shaped carrots, peel them, cut a triangle in the top of the carrot and then trim the sides to make it look like a heart. Then chop the whole carrot into smaller hearts.

Put a few of each veggie into a muffin cup. (I used two since the pink one was not very sturdy, but you can get away with one. You could also use paper cups.)
Make the dip (recipe below).
Put the dip into a bowl and top with a tomato heart. (Cut two tomatoes on and angle and stick them together.)
Arrange on your plate and store in the fridge until you're ready to go.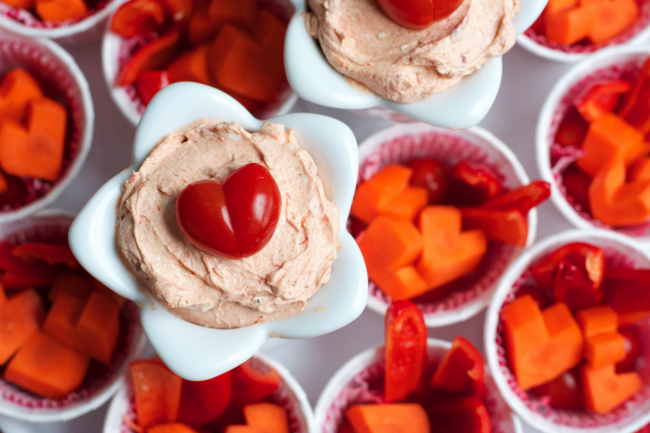 I made my dip with cream cheese, but if you're dairy-free, you can substitute with a can of white beans. If you don't eat beans or dairy, well.. I can't think of a good substitution off the top of my head, so let me know in the comments if you have any ideas.
Whether you go the veggie route or the stuff-your-face-with-chocolate route for Valentine's Day, I wish you a happy one. I know, I know.. not everyone is on-board with this holiday.  But me, I love an excuse to cut my food into shapes, so celebrate we will in this house. Enjoy the day with the ones you love!
Roasted Red Pepper Dip
Ingredients
1 block full-fat cream cheese or 1 can cannellini/white beans, drained
½ cup chopped roasted red peppers (drained if using jarred peppers)
½ teaspoon garlic powder
½ teaspoon onion powder
½ teaspoon salt
½ teaspoon paprika (I prefer smoked paprika)
cracked black pepper to taste
Instructions
In a food processor or mixing bowl with the paddle attachment, mix the cream cheese until smooth (use the food processor if you're using the beans). Add the peppers and spices and process until smooth.
Store in the refrigerator until you're ready to serve.