Pumpkin Cheesecake Bites (No Refined Sugar, Grain-free and Gluten-free Options)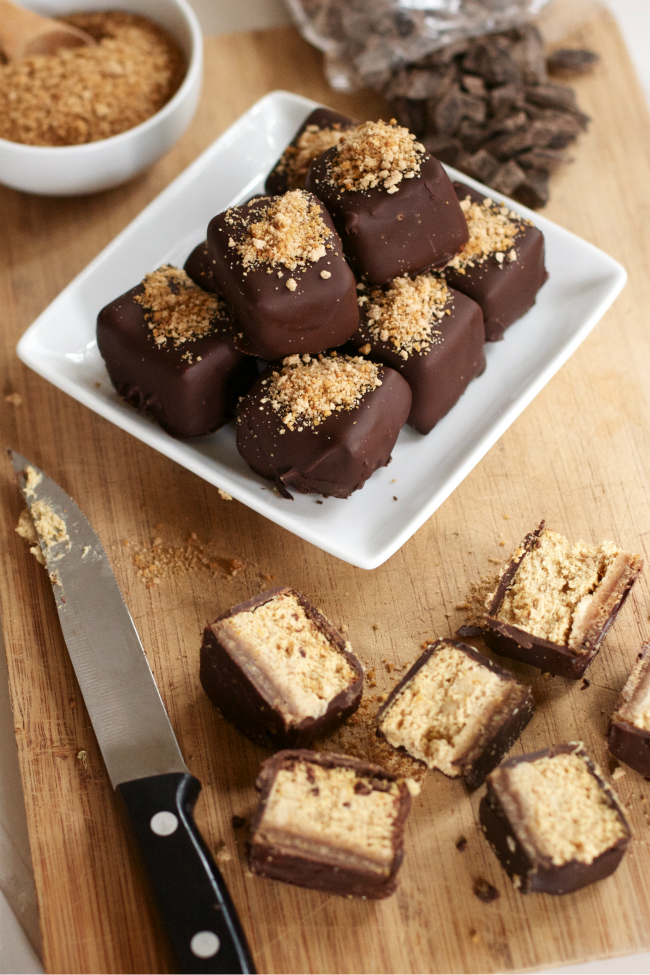 I miss you guys! What's happening? What's new? How's your pumpkin carving/Halloween costuming/PSL consumption going this year?
We are a bit of a Halloween-neutral family. We will dress up if there's a party to go to, take the kids trick-or-treating, buy a few pumpkins and hit the fall festival scene, but we don't love Halloween. We like it just fine, but it's not our favorite holiday. I am always last minute with the costumes and the candy and what not. This year E had planned on being a ghost (BEST DIY COSTUME EVER, SCORE!) but changed his mind and now wants to be a plane (!!?!?! How do I make that!?!) So now the plan is make a cardboard plane, and then little L can go along and dress as a cloud. We'll see if this plan actually goes forward.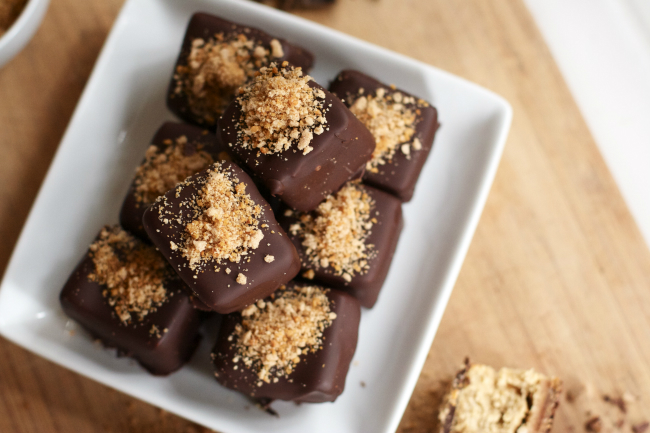 Making these cheesecake bites provided me the perfect opportunity to continue procrastinating on the costumes this week. There was a last minute opportunity to bring a dessert to our house church and I wanted to make something pumpkin-y, but not TOO pumpkin-y, if you know what I mean. Dessert spreads can really be pumpkin overkill this time of year.
The first thing that came to mind was to pumpkin-ize this old recipe for chocolate-covered cheesecake bites. I remember really loving them the first time around and I thought they'd be a great bite-size party treat. I tweaked the recipe a bit and everything turned out perfectly. I love when that happens!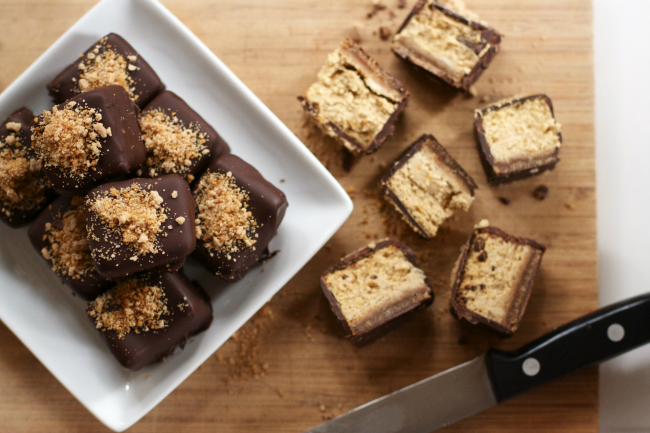 If you are grain-free or gluten-free, you can still make this recipe. Try Carrie's grain-free graham crackers or  Shauna's gluten-free graham crackers. If you are dairy-free/vegan/paleo, I feel for you, I love you, but this one's not gonna work for you. BUT, behold these amazing-looking vegan pumpkin cheesecake pops! They look very similar and would totally work for you, yay! Everyone's tummies are happy.
Pumpkin Cheesecake Bites
adapted from Handle the Heat makes about 36 squares
Ingredients
1 cup graham cracker crumbs (regular, gluten-free or grain-free as needed)
1 stick butter, melted and cooled
8 oz cream cheese, at room temperature
5 oz mascarpone cheese, at room temperature (substitute more cream cheese here if you prefer)
½ cup granulated sugar (I used coconut sugar, you could use date sugar as well)
½ cup plain yogurt or sour cream
½ cup pumpkin puree
2 large eggs
2 teaspoons vanilla extract
1 teaspoon cinnamon
½ teaspoon nutmeg
16 ounces chocolate for melting (refined-sugar free, if necessary)
4 tablespoons coconut oil
more crushed graham crackers, for topping
Instructions
Preheat the oven to 350 degrees. Line an 8×8 square baking dish with foil and grease with butter or non-stick spray.
To make the crust: Combine graham cracker crumbs and butter in a small dish. Press mixture evenly into your pan and bake 8-12 minutes, or until light golden and fragrant.
Reduce oven heat to 325 degrees.
To make the filling: Beat cream cheese, mascarpone (if using) and sugar with an electric mixer until smooth, 2-3 minutes. Add in yogurt/sour cream, pumpkin, eggs, vanilla, cinnamon and nutmeg and beat until just combined. Pour mixture over the crust and bake 35-40 minutes or until the cheesecake is slightly puffed and the center is set. Cool to room temperature on a wire rack.
Refrigerate until chilled (about 2 hours) then place in the freezer, 8 hours or overnight.
To coat: Once the cheesecake is frozen, lift it out of the pan and gently peel away the foil. Using a sharp knife, cut the cheesecake into 36 squares. Place in the freezer until you're ready to dip them.
Melt the chocolate and coconut oil in the microwave or double-boiler until smooth. Place parchment paper on a baking sheet. Dip the squares, one at a time, in the chocolate. Let the excess drip off and place on the prepared sheet. Top with graham cracker crumbs, if using. Then refrigerate or freeze until the chocolate is set.
Trim excess chocolate, if necessary, and serve cold. Store in the refrigerator or freezer in an airtight container.