Mini Mexican Zucchini Boats (Grain-Free, GAPS/Paleo/Dairy-Free Option)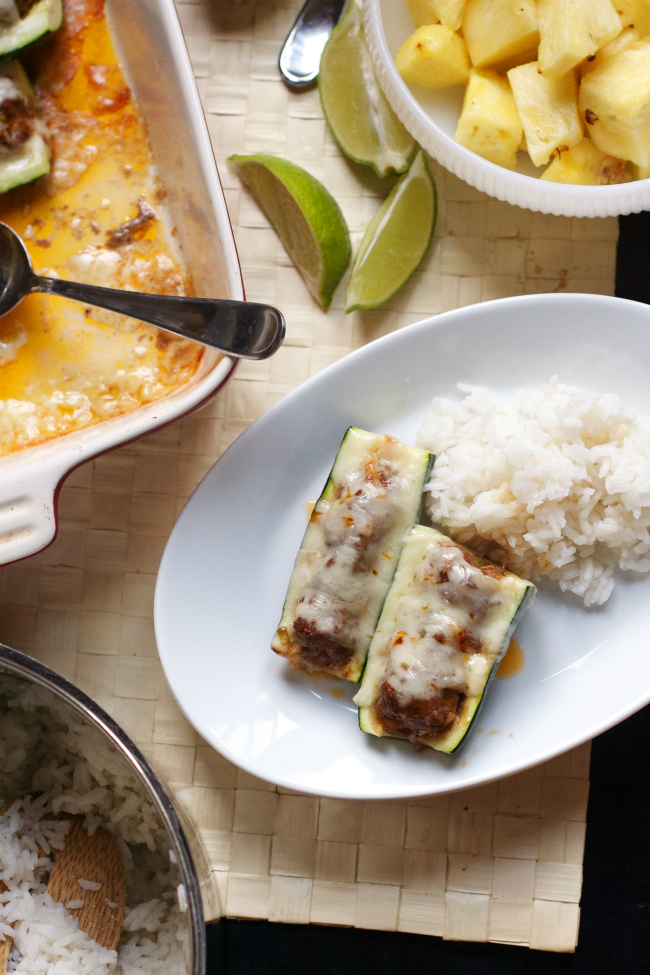 I made a real dinner, you guys.
I actually semi-meal-planned it and put thought into it and everything (say what??). Mom/wife of the year!
It's tough for me to get my head on straight and focus on my every day responsibilities at the moment. The new house is just crazy and it's consuming my thoughts. I sat down to write my market/grocery list and I reeeeally had to focus, but I got it done. And I actually bought the things on my list at the market without buying any extra stuff (except a strawberry popsicle for my little helper, couldn't resist). Although.. we did go to Trader Joe's afterwards and we have about 0.0% self control in that place.. so mission only semi-accomplished. Oops.
We will have to do a whole run down of our Trader Joe's favorites soon.. I could talk about it all day. Love/hate relationship.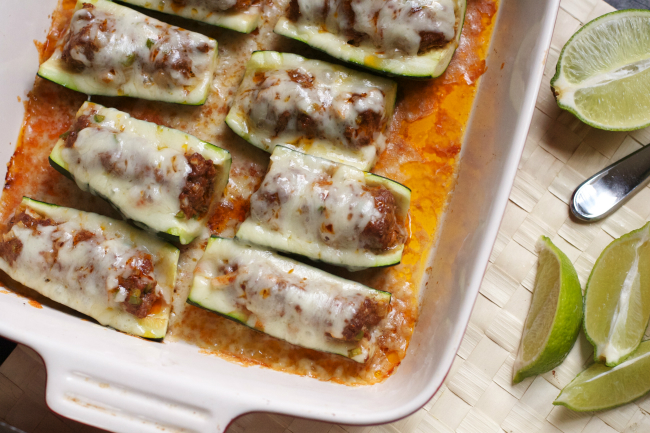 Okay, so these are mini taco-stuffed zucchini boats. Cute, right? I made them smaller so they'd work nicely for kid portions. I actually thought about making them even smaller, but I thought the filling might fall out. After cooking them, I can say that they'd be perfect bite-sized appetizers if you cut them into 1-inch portions. I'd love to serve teeny tiny ones with some margs- GIANT margs.
If you are paleo or dairy-free, I still think these would be tasty without the cheese. We had some extra filling and we fried it up like a little taco burger, and it tasted great. Cheese not necessary.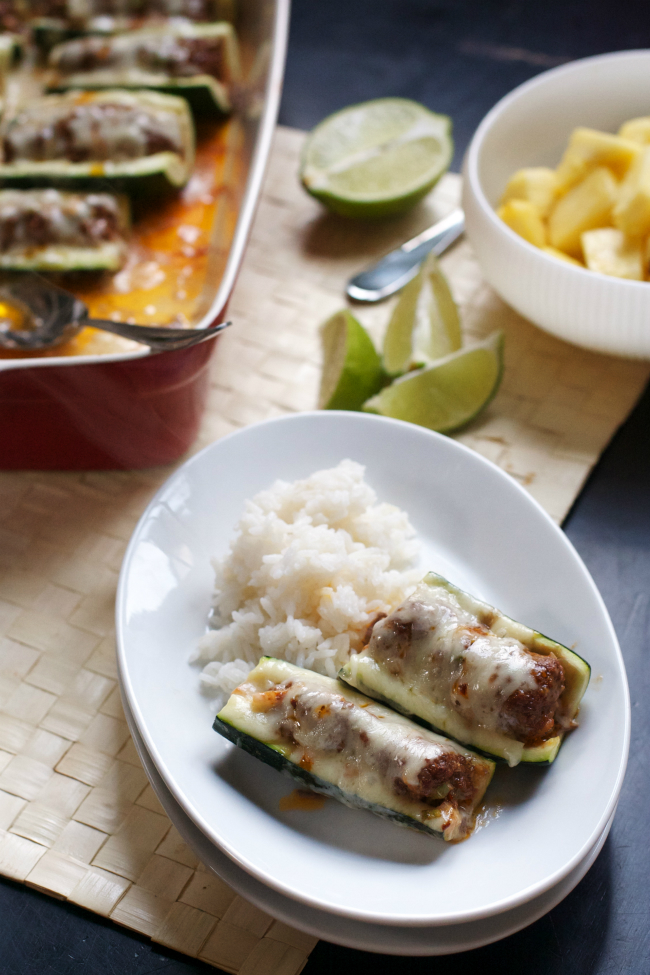 These little boats are a nice way to switch things up if you like tacos, but you're getting tired of your typical tortilla or lettuce wrap. The zucchini is basically just another vehicle for getting that taco goodness in your mouth. It's really all about the filling, isn't it? It takes a little extra time, but it's not as messy as a taco if you're feeding them to your child. This is important at my house, since my daughter has crazy-dinner-mess-face every time she eats. Girl is serious about her food.
Hopefully, I can keep up this meal-planning streak for another few days. I think you probably know how that's going to end..
Mini Mexican Zucchini Boats
*To make things even quicker, you can substitute about 3-4T taco seasoning for the spices.
Ingredients
4 medium zucchinis, ends trimmed
1 pound ground beef (I prefer grass-fed)
½ onion, minced
½ green bell pepper, minced
1-2 garlic cloves, minced/pressed/grated
1 tablespoon tomato paste (optional, not Paleo-approved)
1 jalapeno pepper, seeded and minced (optional)
1 tablespoon chili powder
1 tablespoon cumin
1 tablespoon smoked paprika
1 teaspoon oregano
2 teaspoons salt
cracked pepper to taste (probably around 1 teaspoon)
1 cup shredded cheese (optional, I used a mixture of monterey jack and sharp cheddar)
Instructions
Preheat the oven to 375. Grease the bottom of a large baking dish.
To prepare the zucchinis, cut them in half lengthwise and scoop out the flesh to make a channel. Set aside.
To prepare the filling, mix the ground beef, onion, bell pepper, garlic, jalapeno, tomato paste (if using) and spices in a medium bowl.
To assemble, fill the zucchinis with the ground beef mixture. Then cut each zucchini in half (or smaller sections if you life). Place the mini zucchini boats in the greased dish.
Bake for 20 minutes. Pull out of the oven, top with the shredded cheese and bake for another 5-10 minutes or until the zucchini is soft and the cheese is melted. If you're not using cheese, bake about 30 minutes until the zucchini is soft and the filling is set.
Serve warm and enjoy.