Maple Bacon Donuts (Grain-Free, Gluten-Free, Paleo)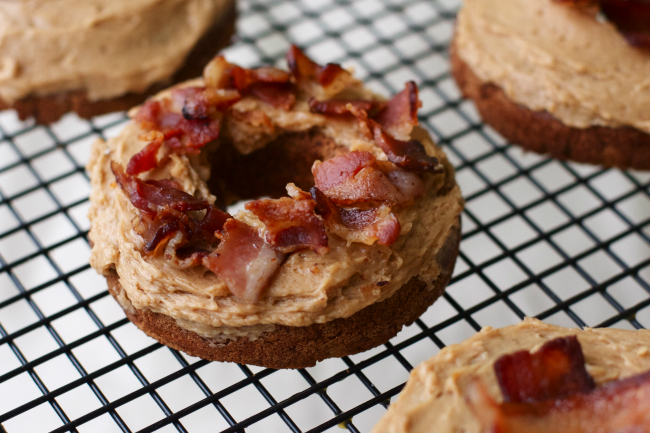 You guys, I bought a donut pan!
I found it at T.J. Maxx for like five bucks, so it basically jumped in my cart and wouldn't take no for an answer. Now we can have donuts together every day!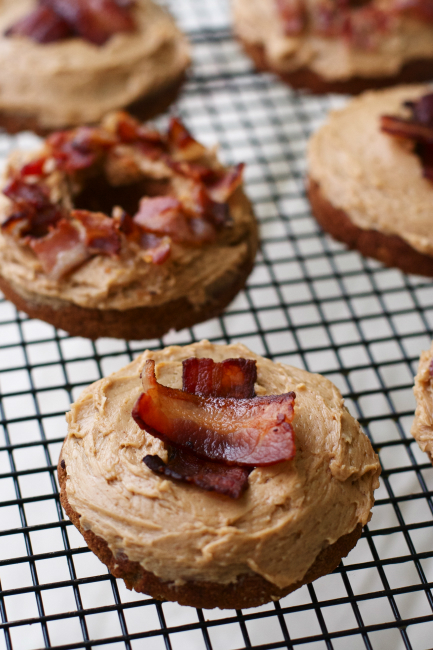 I want to know who came up with the maple bacon combo first. I would like to shake that person's hand. And then give them a hug that lasts too long and gets awkward. Because I love bacon and maple syrup together- it's the work of a genius.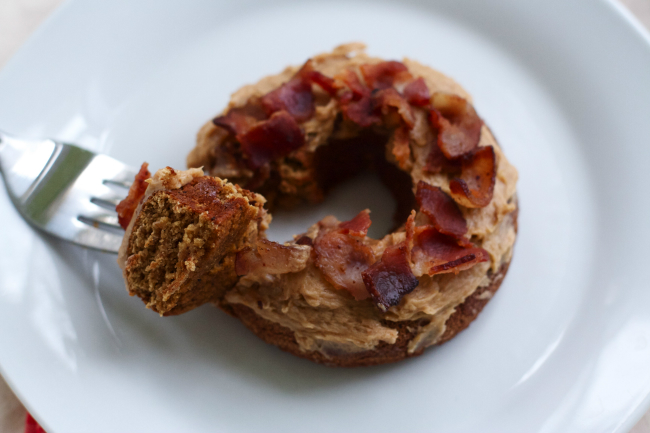 Maple bacon. Get on the bandwagon, friends!
As most of my treats have been lately, these are grain-free, gluten-free and paleo (as long as you use the appropriate sweeteners). These types of treats are probably supposed to be occasional.. but I ate two of them in one day. Just keepin' it real for you. They're good!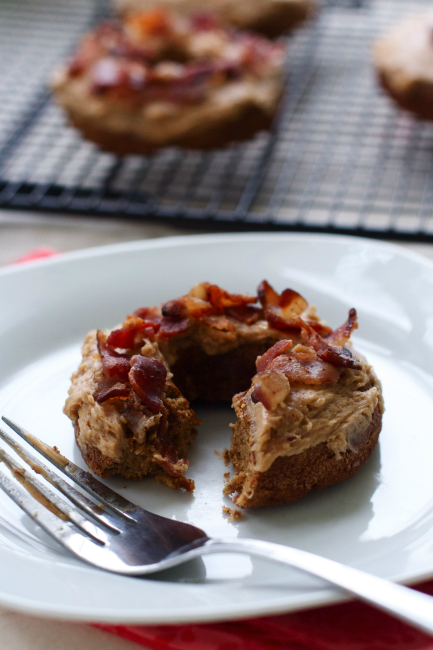 Are you guys enjoying the new recipes lately or did you prefer the old ones? I want to keep bringing you recipes that you would actually like to make some time. Can I get a little feedback? Be honest if you don't like all the paleo stuff, but be kind. 🙂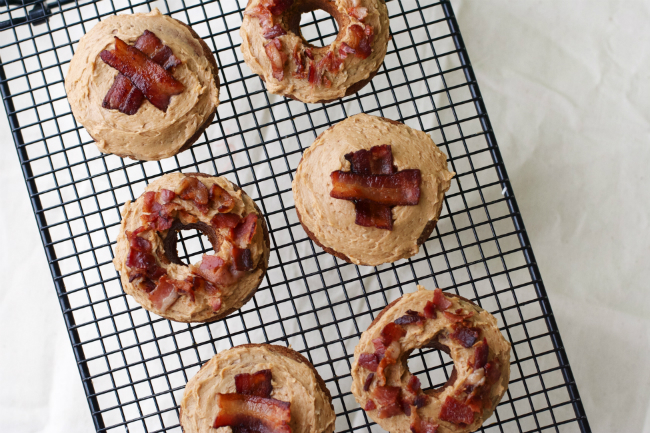 These pictures keep making me lose my train of thought.. gah, these donuts were good! I love bacon and maple syrup and butter. The end.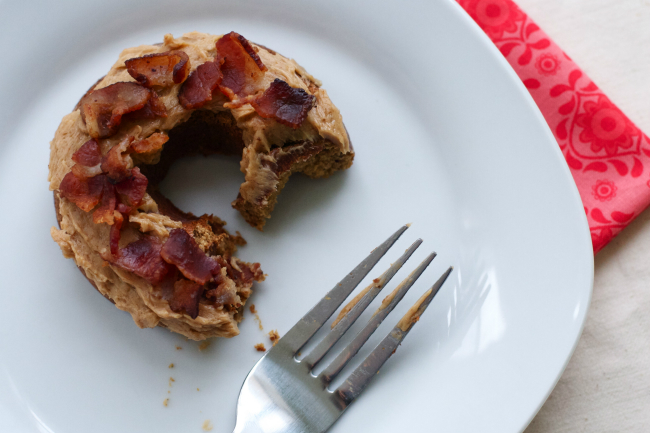 Maple Bacon Donuts (Grain-Free, Gluten-Free, Paleo)
Recipe type:
Breakfast, Baked Goods, Dessert
Ingredients
½ cup coconut flour
½ teaspoon baking soda
¼ cup unrefined sugar (I used date sugar, you could try coconut sugar or maple sugar as well.)
2 eggs
2 tablespoons pure maple syrup
½ teaspoon maple extract
2 tablespoons applesauce
½ cup coconut milk or cow's milk
6 tablespoons grass-fed butter (such as Kerrygold) at room temperature
1 tablespoon pure maple syrup
¼ teaspoon maple extract
½ teaspoon cinnamon (or more if you like)
3-4 pieces of bacon, cooked
Instructions
Preheat the oven to 350 degrees. Coat a donut pan with butter or cooking spray.
In a medium bowl, mix the coconut flour, baking soda and unrefined sugar. Make sure there are no lumps (break the lumps up with your fingers if you need to).
In another bowl, whisk eggs, maple syrup, maple extract, applesauce and milk. Add to the coconut flour mixture and mix until thick and smooth.
Spoon the batter into a piping bag and pipe the batter into the donut pan (You can spoon it in, but it will be messy- the piping bag makes it really easy to fill the pan). Bake the donuts for 25-30 minutes or until a toothpick comes out clean. Let cool on a wire rack.
While the donuts are cooling, make the maple buttercream. In a stand mixer, combine the butter, maple syrup, maple extract and cinnamon until well combined. When the donuts are completely cool, spread on the buttercream and top with bacon. Keep in an airtight container- the donuts are best eaten within a day or two.