Heirloom Tomato Gazpacho (Guest Post)
I'm back! I'm connected! Hallelujah! Things are inching closer and closer to normal life. We are still in the thick of unpacking, starting to paint and getting acclimated to our new home. Julia from The Crankin' Kitchen is here to fill in the gaps while I get my act together. Julia's blog is awesome- you must check out her walnut pork butter, which is happening in my house ASAP. I'll be back in a day or two to tell you all about our move and how I kind of sabotaged the whole GAPS thing (more on that later). Take it away, Julia!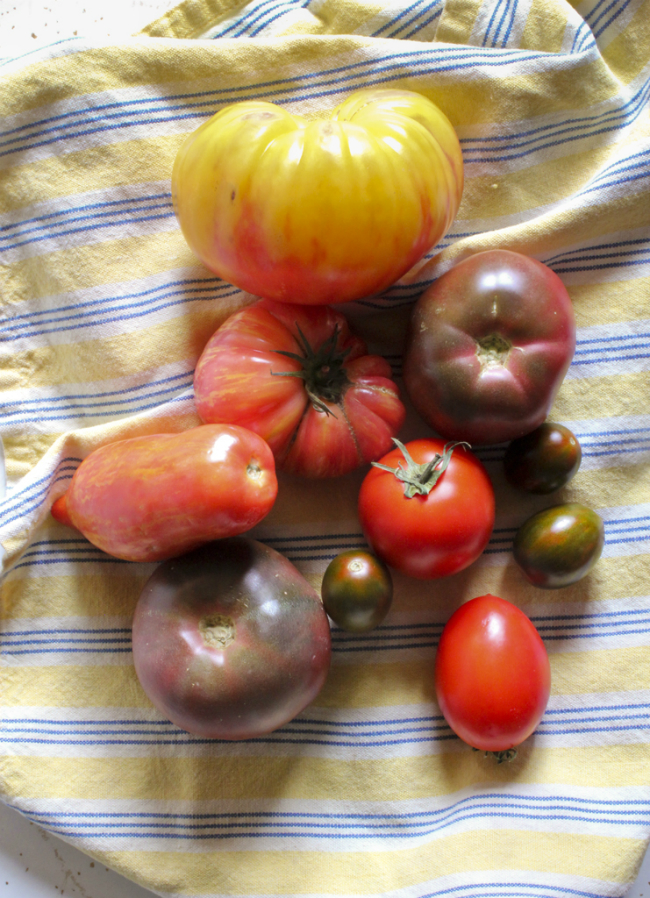 I'm pretty much on a diet of chopped vegetable dishes. Every meal I've eaten in the past two weeks has either consisted solely of a) potato salad, b) green bean salad with basil, sautéed radishes, and hunks of mozzarella, c) citrusy coleslaw, or a hearty helping of one of those next to some protein that I was mostly eating just to stave off devouring a giant bowlful of one of those salads. Now that tomatoes are starting to come in? Oh boy. Watch out. Is it possible to eat all of your daily calories from tomatoes? Can I try? No? Okay, I'll throw in some grilled corn on the cob slathered with homemade lime mayonnaise and queso añejo. And some peaches and cherries. That's fine. God I love summer.
Gazpacho is a little difficult for me. On the one hand, it's probably one of the best soups you can eat. On the other hand, it seems a little shameful to purée fresh, ripe, local (expensive) heirloom tomatoes. Maybe that's because I don't have any of my own in a garden in my back yard. I kind of feel that they're like precious gems and to adulterate them with anything more than some coarse sea salt and a basil leaf is to somehow cheapen them. But when it's terrible and hot and gross out, gazpacho is something to live for.
Since there's not much to gazpacho, you must use good tomatoes. Don't put off this recipe until the winter or something. Go out and splurge on some beautiful tomatoes. And if you have them in your garden, you are lucky and please send some to me. And as with most traditional and iconic recipes, there are a hundred versions, all hotly contested as being the one perfect one I'm sure. I don't have too many strong opinions on what vegetables should or not should be included in gazpacho and what the levels of vinegar and oil should be. I do strongly feel, though, that using tomato juice is a no-no. I mean, you're trying to celebrate gorgeous summer tomatoes. Why would you mix them with bottled tomato juice? Gah. But if you want to leave out the cucumber and red pepper, or add in some parsley, go for it. Topping gazpacho with a hard boiled egg is also extremely acceptable.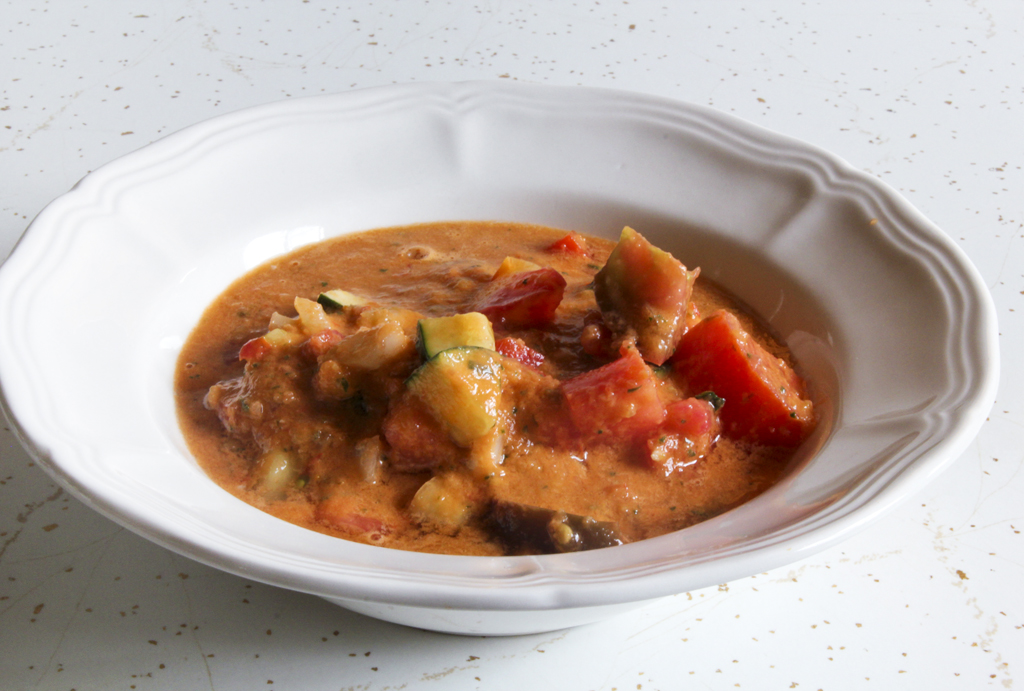 That's it. That's my gazpacho. It's wonderful. You can certainly chill it if you need some extra cooling off, but I think room temperature allows the flavors to be their best. Unless room temperature means boiling, which it would be here if my air conditioner ever stopped working. Some garnishes you could use if you haven't already started to dig in, are finely chopped cucumbers and red peppers, parsley, toasted almonds, and crumbled/chopped hard boiled egg.
Seriously gardeners, send me your tomatoes. I hear that you have wayyy too many to eat. Pretty sure.
Heirloom Tomato Gazpacho (Guest Post)
Author:
Julia Campbell, The Crankin' Kitchen
Ingredients
2.5 lbs heirloom tomatoes, chopped
1 medium cucumber, seeded (cut in half width-wise then in quarters length-wise and seeds cut off) and chopped
1 medium yellow or white onion, chopped
1 red pepper, seeded, deveined, and chopped
2 garlic cloves, minced or pressed
1½ tsp sea salt
¼ cup extra virgin olive oil
2 tablespoons sherry vinegar
Instructions
Mix together the vegetables in a large bowl.
In a blender, purée garlic, salt, olive oil, and vinegar. Scoop about half of the vegetable mixture into the blender. Blend until smooth, in batches if necessary.
Pour blended veggies back into the bowl of chopped vegetables and mix.