Grain-Free Peach Cobbler (Paleo, GAPS)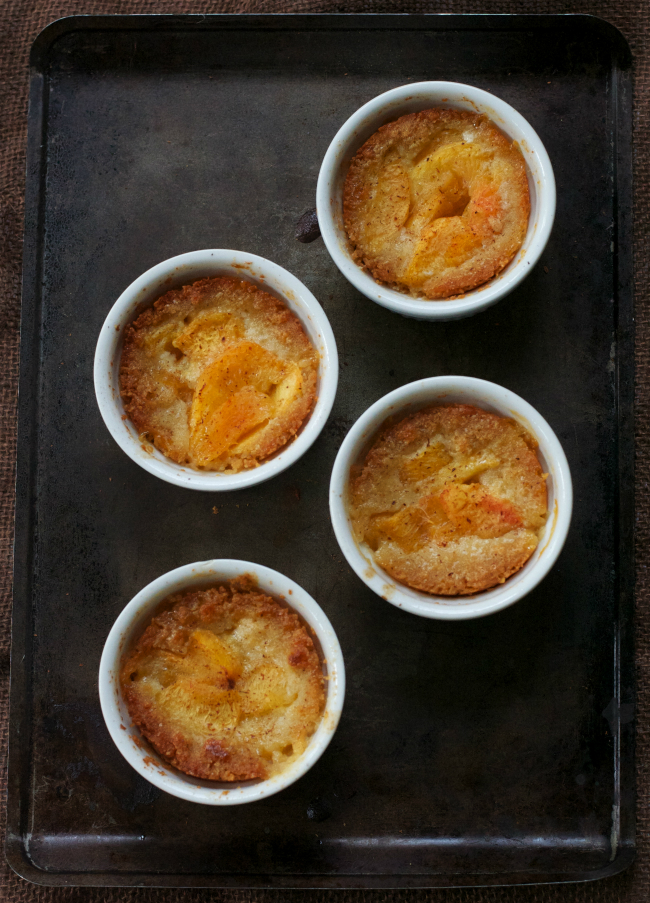 Feels good to be home.
Feels good to be home alone, with no babies. Just for the day.
Feels good to do some cooking, take some pictures and be leisurely about writing a blog post.
(Also feels good to watch old episodes of Friday Night Lights while I do.)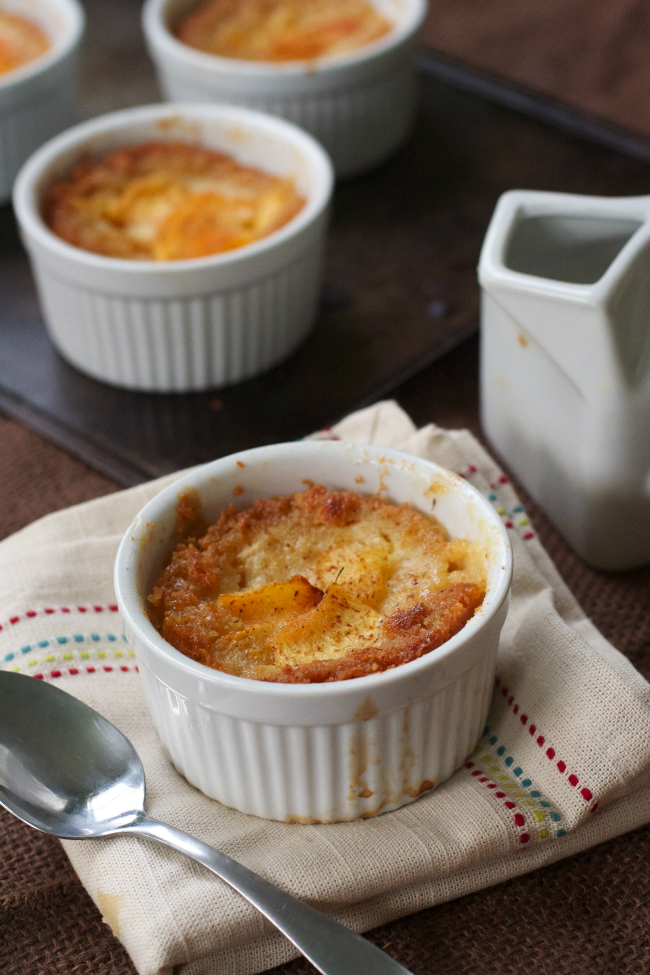 The kids and I were traveling and visiting family for the last two weeks, and we were lucky enough to have my parents come back to spend the July 4th holiday with us. While they were here, we went down to Lane Southern Orchards for their celebration. They're a huge producer of peaches here in GA and they make an awesome peach cobbler. Since I'm on GAPS, I couldn't enjoy Lane's cobbler while we were there, so the idea of a grain-free cobbler has been bouncing around in my head for a few days.
Today, since I'm home alone, I finally had the chance to mess around in the kitchen. I took one bite and I knew I had to sit right now and blog the recipe right away.  Now, I'm not a real Southerner, and I haven't had many cobblers in my life, but the taste and texture of this recipe is just what I expected a cobbler to be.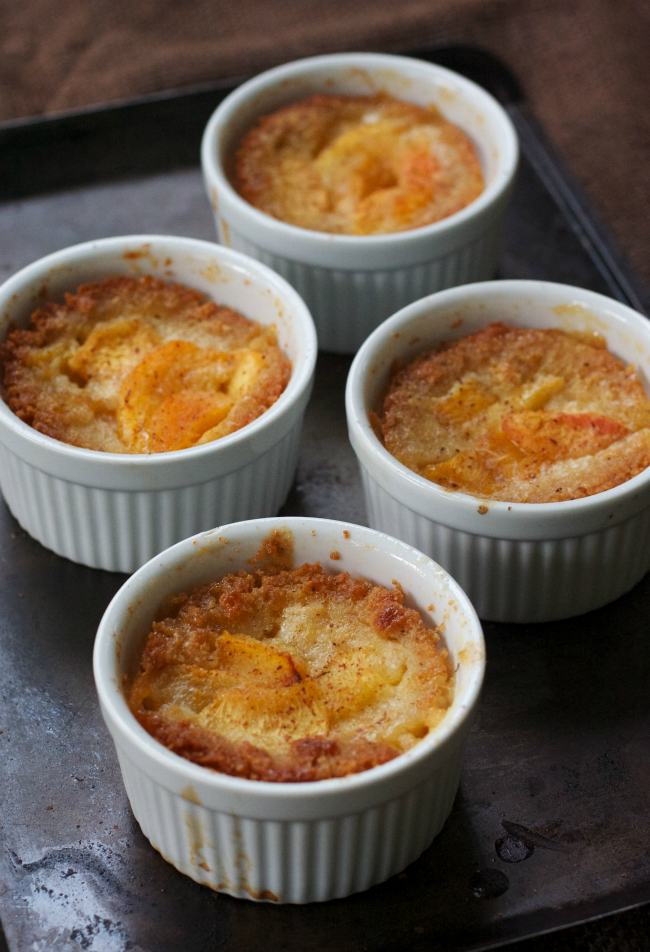 This is one of those grain-free recipes that I think anyone (grain-free or not) would enjoy. You can rest easy serving this to a wide range of guests- it's grain-free, gluten-free, dairy-free if you want, paleo, full GAPS, vegetarian and vegan-adaptable if you want.. really simple and crowd pleasing. Great choice for a summer potluck if you bake it in an 8×8 pan- or you can bake it in ramekins I did (in the hopes that I wouldn't eat the whole thing in one sitting. I'm doing good on that so far, but it's touch and go.)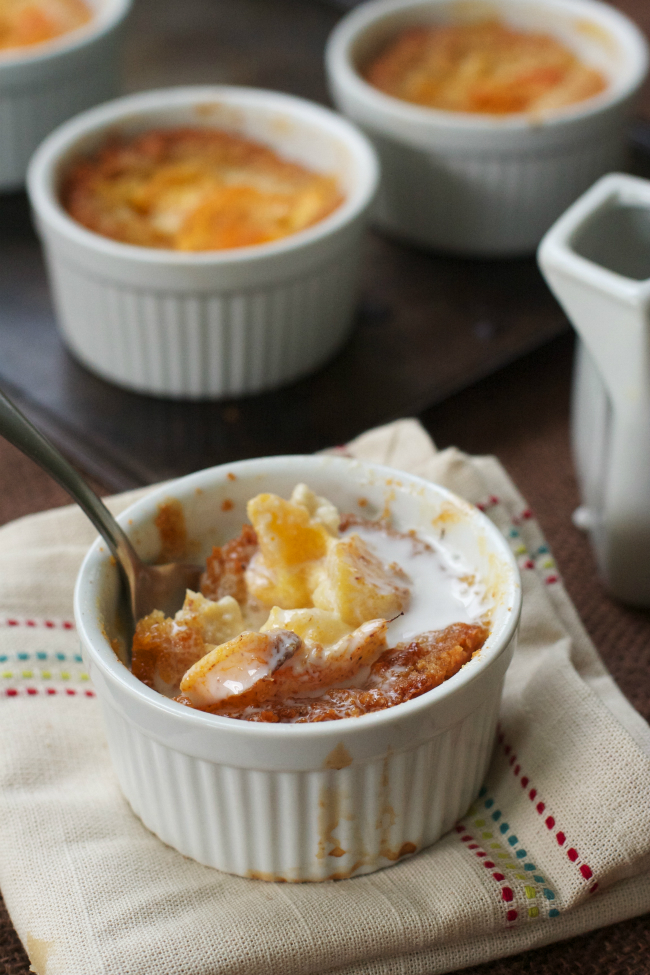 This would be delicious served with ice cream, whipped cream or coconut whip (I actually meant to top it with coconut whip, but it's too hot in my house to make any. The A/C is out so it's kinda roasty in here).
I feel like maybe these cobblers are my little grain-free ode to Georgia.. we're 5 weeks away from leaving and I'm starting to get sentimental about the place. Sentimental meaning I am eating a whole lot of peaches, saying a lot of y'alls, listening to Down Home Girl on repeat and seriously watching too much Friday Night Lights.
And tonight, I'll be eating cobbler while I watch, y'all. Georgia forever.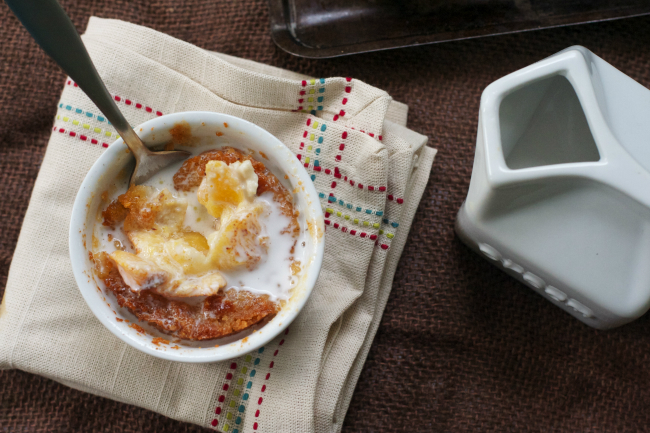 Grain-Free Peach Cobbler (Paleo, GAPS)
Adapted from The Healthy Home Economist- http://www.thehealthyhomeeconomist.com/no-grain-peach-cobbler/
Ingredients
2 cups peaches; peeled, pitted and sliced
¼ cup filtered water
4 tablespoons butter (I use KerryGold) or coconut oil
¾ cup almond flour (I use Honeyville)
1 egg
¾ cup full-fat coconut milk or heavy cream
¼ cup plus 2 tablespoons raw honey
1 teaspoon vanilla extract
cinnamon and nutmeg, for topping
full-fat coconut milk, heavy cream or ice cream for topping
Instructions
Preheat the oven to 350.
In a saucepan, add peaches and water. Bring to a boil, reduce heat and simmer for about 10 minutes.
Meanwhile, slice the butter into pieces and place them into 4-6 small ramekins or an 8×8 baking pan. Place the ramekins or baking pan in the oven and let the butter melt.
While the butter is melting and peaches simmering, mix the almond flour, coconut milk/cream, egg, honey and vanilla until well-combined.
Remove the baking dishes from the oven and pour the batter on top of the butter and do not mix. Drain the peaches and spoon them evenly over the mixture. Sprinkle cinnamon and nutmeg over the top.
Bake the cobbler for 25-30 minutes or until they look brown and bubbly.
Serve warm with a drizzle of full-fat coconut milk, heavy cream or ice cream.