Creole Rice Skillet with Andouille Sausage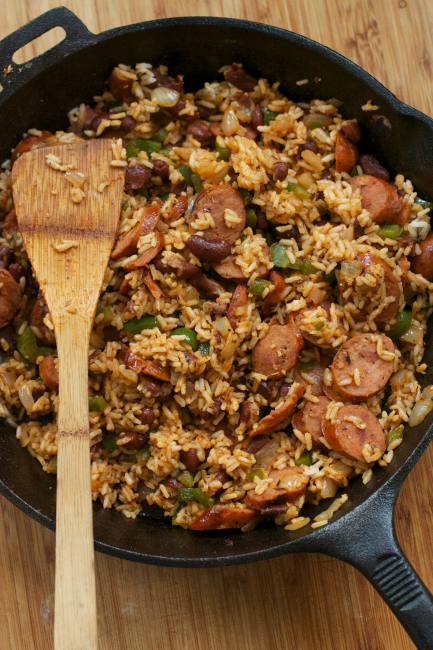 I heart quick dinners. Don't we all?
Some nights there just isn't time to mess around with the oven and the pots and the pans and the measuring cups and the nonsense.
Some nights I just pull out the cast iron and see what happens.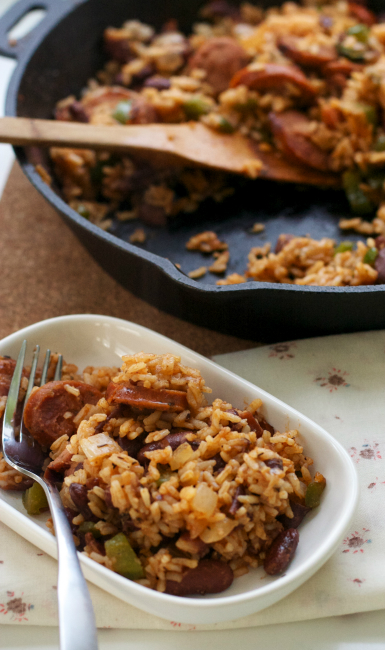 The night I made this skillet, I was lucky enough to have some cooked rice, some beans and some Aidell's Cajun-Style Andouille Sausage* hanging around. So creole/cajun/jambalaya-style skillet it was. It came together lightening fast since the rice and sausage were already cooked, but it wouldn't take more than 20 minutes to get that taken care of, so still a quick dish in my book.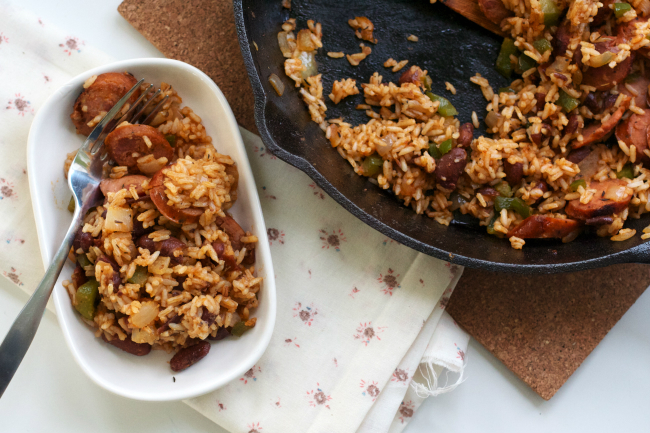 This one was a winner for the adults in our household, but it was a bit spicy for the kids. If you want to make a kid-friendly version, I would go easy on the spices and use a milder variety of sausage. Still a yummy combo, I'm sure.
If you're not really into the cajun/creole thing, maybe try Italian sausage and cannelini beans or really anything else from the pantry or fridge that sounds good to you. That's the best part about skillet dinners- you can just throw more stuff in until it looks like a meal. (Spoken like a true food professional, amiright?)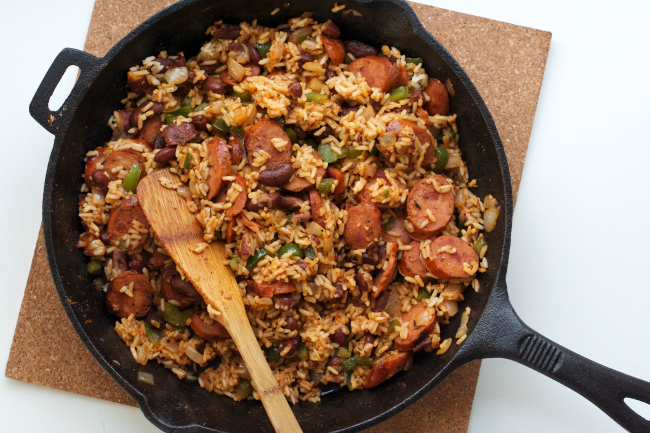 *P.S. This post is not sponsored by Aidell's, I just like them! They are the best option at my local grocery store for natural link sausages.
Creole Rice Skillet with Andouille Sausage
The prep time includes cooking the rice and sausage.
Ingredients
1-2 tablespoons grass-fed butter or lard
1 onion, chopped
1 bell pepper, chopped
2 cups cooked rice, any variety
4 andouille sausage links, cooked and chopped
1½ cups or 1 drained and rinsed can of red kidney beans
1 teaspoon salt
1 teaspoon black pepper
1 teaspoon onion powder
2 teaspoons garlic powder
1 tablespoon paprika (I use smoked paprika but any kind will do)
¼ teaspoon red pepper flakes or cayenne pepper (or both)
1 teaspoon oregano
1 teaspoon thyme
Instructions
In a cast iron skillet, heat the butter or lard over medium heat. Saute the onion and bell pepper until they begin to soften.
Add the rice, sausage and red beans. Stir and let cook until warmed through.
Add the spices and stir until completely coated. Serve warm in the skillet.