Coconut Chocolate Thumbprint Cookies (Guest Post)
Today, I have the pleasure of introducing you to Jody from
Living Nutrition
. Jody comes up with the most delicious looking recipes- her
smoked cherry chicken wings
and 
banana split ice cream cake
 are just begging to be made at my house! And don't get me started on these cookies- no-bake thumbprints are genius. Thanks, Jody, for helping out while I'm busy packing boxes! Here's a little more about Jody:
Jody Engstrom has been a personal chef for special needs clients such as cancer and diabetes patients and has also teaches food preparation classes. She has prepared raw/vegan, grain-free and paleo diet foods for health food stores, crossfitters, and bodybuilding clients as well. Currently she is a  mother of 1 darling and energetic little girl, prepares healthy delightful meals for her family and cooks, photographs, and posts to her health diet related blog, Living Nutrition @ mylivingnutrition.com. Jody writes:
These little morsels are a new family favorite. They have become commonly requested for tea and dinner parties as well!
The first time I made them was during naptime about 6 months ago, at an especially defiant stage of the munchkin's life. I needed a "meditative moment", so I decided to make these while she was sleeping, in hopes that we could have a relaxing tea party with Lily doll, Pooh Bear and Mr. Moose when she woke up.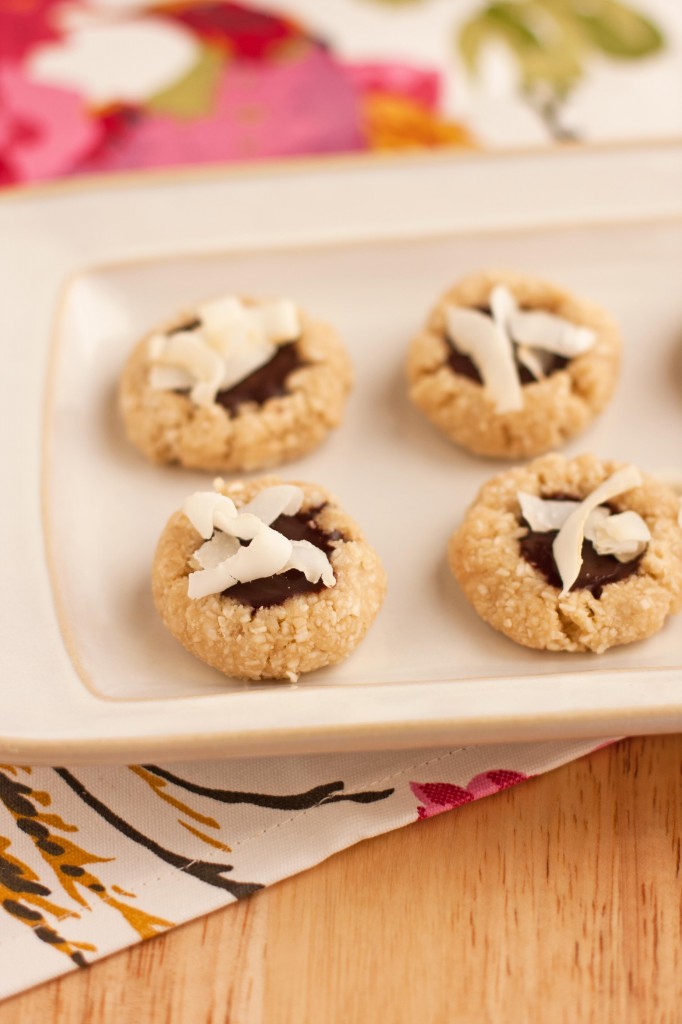 The cookies were surprisingly easy to make and I had plenty of time to photograph my creation, when my husband came upstairs from working.I had him try one and he didn't stop. Between every click of the camera, there was another cookie stolen. I managed to get the photo I wanted, but at the tea party in the aftermath, Lily, Pooh Bear, and Mr. Moose looked somber as Ariana and I chomped down on the last 2 cookies daddy was forced to save for us.
I learned from this "cookie massacre" that if I want any saved for us, I have to wrap a few in aluminum foil and hide them behind the frozen peas in the freezer. It's sneaky…but it works.
Coconut Chocolate Thumbprint Cookies
Grain-free, gluten-free, dairy-free. Originally posted on livingnutrition.com.
Ingredients
for the cookies:
1 cup shredded unsweetened coconut
3 TBS coconut nectar, honey or maple syrup
2 TBS softened coconut oil or butter
1 tsp vanilla extract
a pinch of salt
for the chocolate ganache:
2 TBS coconut oil, melted
1 TBS raw cacao powder or cocoa powder
1 TBS coconut nectar, honey or maple syrup
a few grains of salt
Instructions
Put all of the cookie ingredients in the food processor and process until mixture sticks together. Scoop into 1 TBS sized balls. Place in the fridge for 5 minutes while you prepare the chocolate filling.Mix everything for the filling, in a shaker bottle or small blender until emulsified. Set aside.
Remove the coconut balls from the fridge and flatten them into more of a cookie shape. Create an indentation in the middle of each cookie for your chocolate ganache.
Carefully spoon the chocolate ganache into each indentation. Return to the fridge for 5 min for the ganache to set.
Enjoy! No Baking Required!