Broccoli Salad with Homemade Mayo (Guest Post)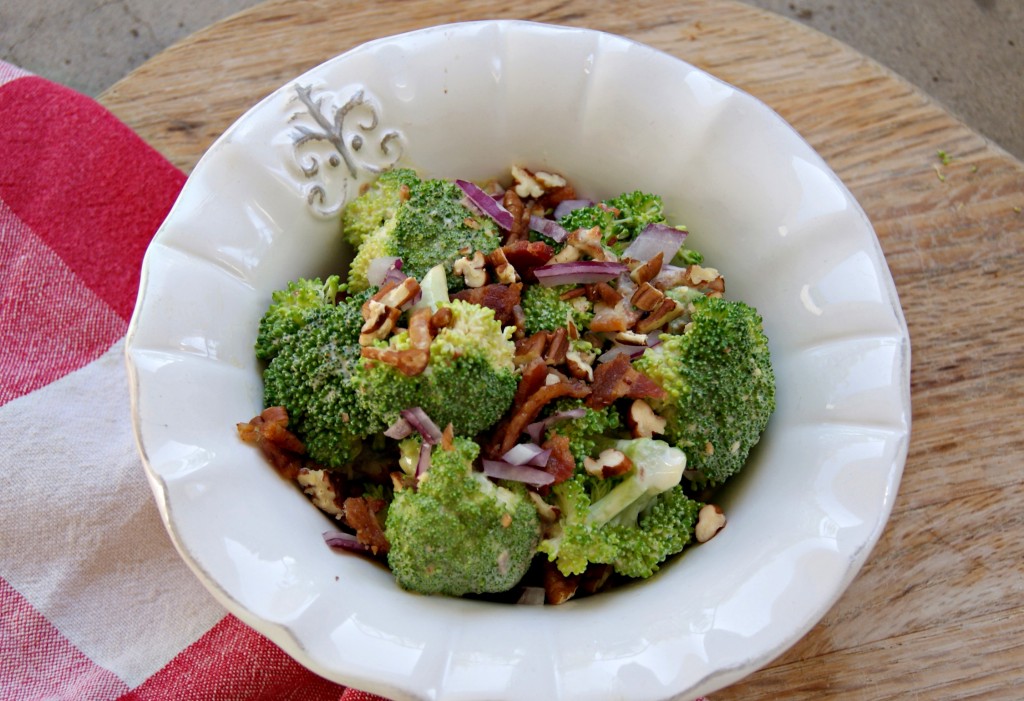 Today, we'll be making the marathon 10 hour drive from GA to OH (make that 14 with the kids?). I'm glad to be on our way to getting settled in our new home, but it will be a long and bittersweet day, for sure. While I'm listening to my "Leaving GA" playlist and sobbing on the road, you get the treat of meeting Allison from The Sprouting Seed!
Allison is a nutritionist with a B.S. in Nutritional Science and a full-time mom. She got her start as a nutritionist and breastfeeding counselor at WIC. This was before she moved half way across the world to live in Central Europe, where she learned about real food, vibrant health, and traditional methods of preparation. Allison has found a way to make friends with little old ladies around the world and loves to share their time-tested secrets of life.
So glad to have her here on the blog today. And with a dynamite recipe for broccoli salad, no less! I am normally not a mayo fan.. but I think I will have to try her homemade mayo recipe– it looks amazing.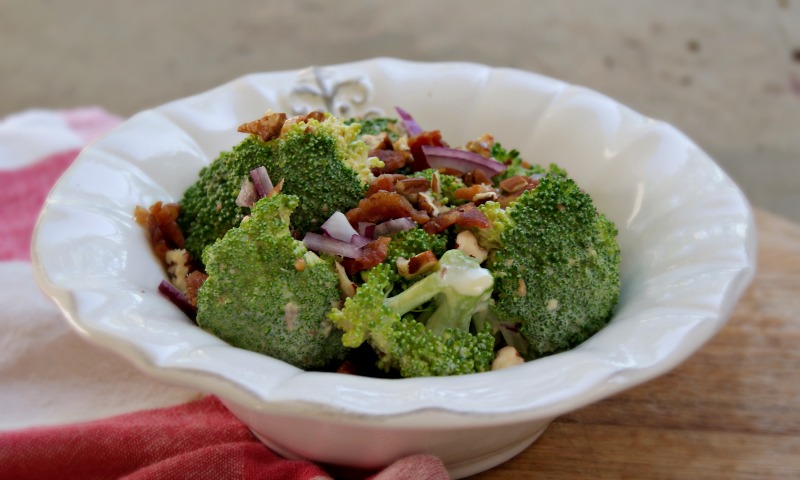 Broccoli is my favorite veggie. But I'll be honest, I usually like it one way and one way only: lightly steamed, then sautéed with garlic. It's simple, delicious, and I rarely feel the need to broaden my broccoli repertoire.
Lately, however, things have changed. I've been jazzing up all my vegetable dishes and not even broccoli could escape my creative streak. I started by frying zucchini fritters and grating cauliflower into "rice". Then, I broke away from the well-beaten path of my broccoli recipe and ventured into new terrain. What did I make? Well, Broccoli Salad, of course!
This salad is hearty and delicious. It features raw broccoli, a homemade mayonnaise dressing and, you guessed it, bacon! I originally made it as a side dish, but lately I've been loving a big bowl of Broccoli Salad for dinner. It's easy to whip up and sure to please. As an added bonus–using homemade mayonnaise instead of the store-bought version turns this dish into a powerhouse of nutrients. Bon Appetite!
Broccoli Salad with Homemade Mayo (Guest Post)
Recipe type:
SIde Dish, Salad
Ingredients
2 heads of broccoli, stalks removed, cut into small florets
6-8 slices of bacon
¼ purple onion, finely diced
½ cup crispy pecans, chopped
¼ cup dried cranberries or raisins
¾ cup homemade mayonnaise (recipe found here: http://thesproutingseed.com/homemade-mayonnaise/)
3 Tbsp white wine vinegar
2 Tbsp raw, local honey
Instructions
In a skillet, fry bacon over medium high heat until evenly crisp. Remove the bacon, drain excess grease and crumble the bacon into small pieces.
In medium bowl, combine mayonnaise, vinegar and honey and whisk until combined. Mix in broccoli florets, cranberries, and onion. Toss ingredients until the broccoli is thoroughly coated with the mayonnaise dressing.Just before serving, add the bacon and crispy pecans.